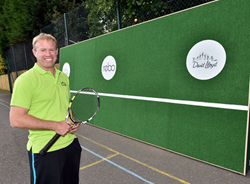 London, UK (PRWEB UK) 25 June 2015
Mark Petchey is on the final leg of a nationwide, pre-Wimbledon tour with the UK's leading tennis provider that has seen him hosting tennis clinics at primary schools in Birmingham, Manchester and Glasgow.
The clinics, featuring the innovative REBOwall and David Lloyd Lloyd Leisure's Tennis All Stars junior coaching programme, aim to encourage more children to take up tennis and Mark said he was delighted with response from participants so far.
The Sky Sports tennis commentator said: "I couldn't believe the children's enthusiasm for tennis at the three events in Birmingham, Manchester and Glasgow. Throughout this campaign, it has been very obvious that children just need a little encouragement.
"Once they had a racquet in their hands, the children couldn't have been happier.
Tennis isn't only a great and fun sport to play, whatever your age or ability, but it is also a brilliant way to stay fit and active.
"It is an absolute pleasure to work with David Lloyd Leisure and I am looking forward to the next clinic in London," he added.
The London clinic, from 11am-2.30pm, features the innovative REBOwall, which was predominantly designed for school playgrounds too small for a full-sized tennis court. It includes an adjustable rebound surface, which is angled to give a natural flight to the ball.
Mark will demonstrate the REBOwall during the clinic, supported by tennis coaches from London David Lloyd Clubs Raynes Park and Finchley, who will also showcase David Lloyd Leisure's Tennis All Stars programme which sees 12,500 youngsters across the country playing tennis each week.
David Lloyd Leisure group racquets manager David Bulgin said: "We are always looking for new, fun and innovative ways to encourage people to pick up a racquet. Many children would love to play tennis, but don't always have access to the courts.
"The REBOwall is a fantastic solution, but you can start playing tennis anywhere – whether it's at the park or in the garden!"
David Lloyd Leisure's summer tennis drive includes hosting the LTA's Great British Tennis Weekend 2015, with the final weekend on August 1-2. The group has also launched the LTA initiative, Tennis Tuesdays, at its racquets clubs in the London, Birmingham, Greater Manchester, Leeds and Cardiff areas to inspire more women to get on court to improve their game, while keeping fit, having fun and meeting like-minded people.
David Lloyd Leisure and First News are teaming up to offer all schools across the UK the opportunity to win the £5000-worth REBOwall after its tour. To enter the competition and for further information, visit http://www.firstnews.co.uk/competitions
To watch the roadshow in action, click on the following link: https://www.youtube.com/watch?v=yRqiQqfXWho
--Ends--
NOTES TO EDITORS
PR & MEDIA ENQUIRIES
Mark Petchey will be available for one-to-one interviews and available to speak about British hopes at Wimbledon this year as well as the Davis Cup tie against France in July. Filming and photography (and 'tweeting') is permitted and we will circulate video and high-res images to media outlets after the event.
To arrange an interview, please contact Hanisa North at Henman Communications on +44 7795250420 | hanisa(at)henmancom(dot)com or Richard Henman on +44 7810448782 | rph(at)henmancom(dot)com.
About David Lloyd Leisure Group
The David Lloyd Leisure Group operates 81 clubs in the UK and a further ten clubs across Europe, comprising David Lloyd Clubs, Harbour Clubs and Next Generation, plus the new high street concept, David Lloyd Studio.
It has approximately 450,000 members and employs 6,000 people. This includes an expert health and fitness team of more than 1,800, while it contracts the services of more than 400 tennis professionals.
Across all clubs, David Lloyd Leisure has more than 150 swimming pools (of which half are indoor) and offers more than 10,000 exercise classes per week. Every week, 20,000 children learn to swim at David Lloyd Leisure and 12,500 learn to play tennis. Its racquets facilities are unparalleled with 800 tennis courts as well as 180 badminton courts and 140 squash courts. Additional facilities include health and beauty spas, club lounges with free internet access, créches, nurseries and special sports shops.
ABOUT MARK PETCHEY
Mark Petchey is a former British No. 1 tennis player, who turned professional in 1988. The right-hander won one doubles title (Nottingham, 1996) in his career, reached a career-high ATP singles ranking of world No. 80 in August 1994 and won three Challenger events. He spent 10 years as a professional player and competed at The Championships, Wimbledon from 1988-1998. His best Grand Slam performance was reaching the Third Round at Wimbledon in 1997 where he lost to Boris Becker. Petchey was also coach to Andy Murray, whom he coached to the top 50 in the world.
ABOUT REBOWALL
Installed in less than a day, the REBOwall can be put up anywhere - they can even be easily fitted on indoor courts. REBOwall is especially perfect for locations where a full-size tennis court is impossible.The adjustable rebound 'face' is angled, which gives a realistic and natural flight to the rebounded ball - completely different to a traditional brick wall. The REBOwall is versatile, multi-functional and successfully used for coaching groups and individuals, like 'cardio-tennis' fitness sessions or simply for players who want to practise on their own. Players can hit over 2000 shots/hour with just one ball. REBOwall is excellent for increasing fitness. You get a great workout - plus you can easily burn more than 500 calories per hour. REBOwall has been a supplier to both the LTA and ITF (International Tennis Federation) at tennis events this year designed to increase participation levels in tennis. Further information - http://www.rebowall.com