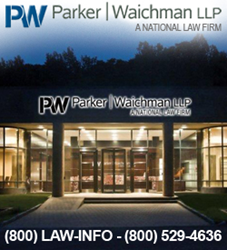 Recalls generally indicate that federal regulators and the manufacturer recognize that a serious problem exists with these products, and recognize the need to remove the potentially dangerous devices from the market
Port Washington, NY (PRWEB) June 24, 2015
Parker Waichman LLP, a national law firm dedicated to protecting the rights of victims injured by defective drugs and medical devices, is commenting on a recall of the HeartWare Ventricular Assist System. According to a recall notice posted on the U.S. Food and Drug Administration's (FDA's) website, the recall was updated to include more issues with the device, which is used to transport blood from the heart to the rest of the body. The system is meant for patients waiting for a heart transplant or who are at risk of dying from end-stage left ventricular heart failure. The recall notice indicates that five other recalls were recently issued for HeartWare's Ventricular Assist System.
Parker Waichman comments that this recall was designated as a Class I, the FDA's most serious recall status. Class I recalls are reserved for devices that present a reasonable risk of serious injury or death. "The updates added to this recall are important for consumers implanted with HeartWare's Ventricular Assist System," said Gary Falkowitz, Managing Attorney at Parker Waichman LLP. "As a firm that represents numerous clients over allegedly defective medical devices, we want to ensure that consumers are kept up-to-date with this information."
Parker Waichman has received a number of inquiries concerning the association between the various defect recalls and serious injury with the HeartWare Ventricular Assist System. The firm has assigned a team of attorneys and paralegals to work on this matter to assist in proving that the maker of this device did not thoroughly review the impact of the Ventricular Assist System on seriously ill patients and to obtain recourse for its potential clients if the device maker did not.
The recall was updated on June 16, 2015 to indicate that the system may be subject to "damaged alignment guides/connection pins may cause pump to stop." This problem, which was linked to 33 reports of malfunction and one serious injury, may cause the pump to cease functioning, resulting in patient injury or death. The patient may have trouble connecting the device controller to their HVAD when the alignment guides wear down or if the pins bend. On June 19, the recall was updated for "Battery Failure May Prevent Alarm from Sounding," which was linked to three injuries and one death. "Damage to Driveline Connector May Cause Electrical Issues or Pump Stops" was also added on June 19, and linked to one report of serious injury and two deaths. The system's pump is connected to the external controller and power source through the driveline; damage to this connection can cause the pump to stop or lead to electrical issues "that may lead to serious patient injury or death." the notification states.
According to Parker Waichman, recalls may affect litigation involving medical devices. "Recalls generally indicate that federal regulators and the manufacturer recognize that a serious problem exists with these products, and recognize the need to remove the potentially dangerous devices from the market," said Mr. Falkowitz. "In this case, multiple reasons were found for the recall."
Parker Waichman LLP offers free lawsuit consultations to victims of medical device injuries and complications. For more information concerning drug reactions, please visit the firm's Defective Medical Devices page. Free case evaluations are also available by calling 1-800-LAW-INFO.