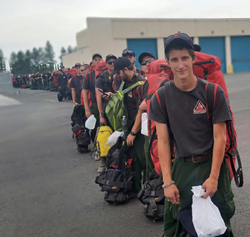 "We are the silent partner in fire with the agencies, our folks are call when needed, and already we have folks on the ground in Oregon, Washington, California and Alaska.", Deborah Miley, Executive Director, NWSA
Lyons, OR (PRWEB) June 25, 2015
As the western US faces extreme drought and record setting high temps, landowners are bracing for an potentially extreme fire season. One of the tools they have available to them is the Professional Private Fire Industry. This industry was born in the early 1980's as the federal and state agencies fire resources were declining and they needed to find a way to utilize those that made their living in the woods. Today that industry is 11,000 firefighters strong across the United States, and can provide over 6100 pieces of equipment and resources to as the agencies in protecting lives, homes and our national treasures.
These resources work under Call When Needed agreements with federal,state and local governments, and can respond on a moment's notice. The advantage of these resources is that these firefighters live, work and play in fire prone areas, and have a vested interest in protecting their communities and surrounding natural resources. They provide a cost effective resource to the tax payer and the agencies as they are available as a call when needed resource.
Currently members of the National Wildfire Suppression Association have resources already on the ground in Oregon, Washington, California and Alaska.
There are over 171 20 person Type 2 Handcrews available under the Interagency Crew Agreement with Oregon Department of Forestry., and 32 Type 2 Intial Attack crews under the National Crew Contract..
There are also over 6500 pieces of equipment from waterhandling to professional faller modules available under the agreement with our agency partners that can respond in a moments notice.
"We strive to provide our partners in fire with a resource that can help bolster up the agency resources when fires are burning in multiple states, and agency resources are stretched thin. We are the agency's silent partner on fires, and even in an intensely active fire season, there are only occasionally a couple of weeks of peak time where they tap into all the resources we have available.", stated Debbie Miley, NWSA Executive Director. That allows the agencies to best utilize available budgets in a cost effective manner, and accomplish the mission at hand.