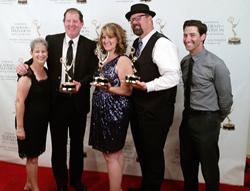 It was such an honor to be recognized by our peers with three Emmy awards.
Palm Springs, California (PRWEB) June 25, 2015
M2 Digital Post Inc. accepted three Emmy awards from The National Academy of Television Arts and Sciences Pacific Southwest Chapter. The awards were given out at the 41st annual Emmy awards show in Palm Springs, California. The Emmy is awarded to recognize outstanding achievements in television, and is intended to be an incentive for the continued pursuit of excellence for those working in television. M2 Digital Post Inc. received awards in the following categories for producing the Wings-N-Thing "Frozen Sucks" commercial spot.
Commercial Single Spot - M2 Digital Post Inc.
Director Short Form - Michael Brueggemeyer
Writer Short Form - Michael Towe
"We're very honored to be recognized by NATAS for our work" Said Michael Towe, President of M2 Digital Post Inc."And I would especially like to say thanks you to Darlington Marketing and the folks at Wings-N-Things for allowing us to be creative, and some fun with their brand."
M2 Digital Post Inc. produced the spot for Darlington Marketing, a San Diego based marketing firm specializing in small businesses in the restaurant, hospitality and lifestyle category. More information on Darlington Marketing can be found at http://darlingtonco.com
The winning commercial spot and be seen at the following URL.
http://m2digitalpost.com/2014/03/wings-n-things-frozen-sucks/
About M2 Digital Post Inc.
M2 Digital Post Inc. Is San Diego's premier boutique production studio specializing in corporate and broadcast production. Their mission is simply to tell their clients story in the most creative way possible. More information on M2 Digital Post can be found at http://m2digitalpost.com