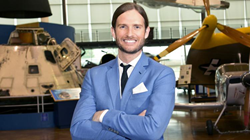 Dallas, TX (PRWEB) June 26, 2015
Oak Mortgage Group is pleased to announce CEO, Holden Thomas as a winner of this year's 40 Under 40 Awards named by the Dallas Business Journal. The 2015 winners have been chosen from a pool of over 500 prominent nominees for their notable accomplishments in business and in their service to the community.
When asked what it feels like to win this prestigious award Thomas said, "It is humbling and exciting to be listed on the Dallas Business Journal's Top 40 Under 40 list. I work with an amazing group of talented professionals at Oak and this feels like a validation of the hard work and commitment they show every day. I am grateful to be a part of such a talented community of people."
The evaluation and selection of the winners was no easy task as the DBJ not only sought out professionals that were high achievers but also individuals that truly made a positive impact on their community. Among the list of extraordinary honorees are entrepreneurs, lawyers, restaurant executives and many more business professionals.
At the age of 25, Thomas founded Oak Mortgage Group despite having no experience in the industry. Oak Mortgage Group is now a $10 million-per-year company and was named one of Inc. Magazine's 5,000 fastest growing companies with a growth rate of 325%.
Along with his booming company, Thomas is also the founder of his own Charity, Oak for the Oppressed. Oak for the Oppressed is a one-of-a-kind program to help those in Africa and Central America escape abject poverty. For every mortgage loan Oak Mortgage Group originates, a micro loan is distributed to help people start their own business and provide for their families. Since its founding in 2014, the charity has funded over 1,800 microloans.
About Oak Mortgage Group
Oak Mortgage Group is an equal housing lender with a vision to greatly improve the customer experience, build trust and have a people-centered philosophy where the customer's needs, their families and their goals are ultimately the central focus.
Oak Mortgage Group has offices located in Austin, Dallas, College Station and Waco with plans for further expansion.
For more information visit http://www.oakmortgagegroup.com. If you would like to set up an interview with Holden Thomas, please reach out to Heather at heather.moorman@oakmortgagegroup.com.