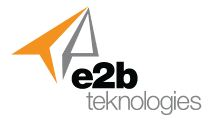 The growth we've seen would not have been possible if not for e2b's customer-centric culture, our experienced and hardworking team, and our intimate knowledge of the industries we serve and products we represent
Chardon, Ohio (PRWEB) June 24, 2015
Ohio ERP company, e2b teknologies (http://www.e2btek.com), today announced that the company has increased new ERP customer acquisition by 83% in the past three years compared to the previous three year period; making it clear that the organization's reputation as a leading mid-market ERP firm continues to grow in Northeast Ohio and surrounding areas.
"Our success can be attributed to many factors," said ERP practice leader Mary Jo Mahood. "We've had tremendous success selling new software licenses to companies moving away from legacy ERP systems and companies that have outgrown entry-level accounting software. Further, many companies have switched to e2b teknologies as their ERP partner of choice due to our extensive development and consulting capabilities and deep industry knowledge and expertise – especially in manufacturing and wholesale distribution."
e2b teknologies also credits the growth of their customer base to a number of other factors including an increase in brand awareness in the Great Lakes region, a growing number of referrals from the local business community, increased website traffic in the past three years from companies looking for ERP consulting and development services, and other factors.
"The growth we've seen would not have been possible if not for e2b's customer-centric culture, our experienced and hardworking team, and our intimate knowledge of the industries we serve and products we represent," said Mahood. "Over the last several years we have made strategic changes to our product portfolio, adapted to emerging trends such as cloud ERP, and continually strive to hire the best ERP consultants, developers, support, and management professionals in the industry."
In recent years, e2b teknologies has expanded its product offering to include both on premise ERP and cloud ERP systems and has made several strategic hires that further set the company apart as a premier provider of Sage 100 ERP, Sage 500 ERP, Sage ERP X3, Epicor ERP, and related consulting and development services. The company also develops complimentary products including Anytime 500 manufacturing and distribution add-ons for Sage 500 ERP (http://e2benterprise.com/Pages/Anytime500.aspx), Anytime Collect credit and collections management software (http://www.anytimecollect.com), and others.
By virtue of the company's growth and expertise, e2b teknologies has earned recognition and accolades from various software publishers, independent analysts, and media outlets. Most recently the company has been recognized by being named to the Sage America President's Circle, The Crain's Cleveland Fast 52 List, Bob Scott's Insights VAR STARs, Bob Scott Insight's Top 100 Mid-Market VARs, Accounting Today's VAR 100, and listed as a 2015 NEO Success Award winner.
About e2b teknologies
e2b teknologies (http://www.e2btek.com) is a passionate and experienced team of industry leaders and business advisers providing high quality, uncomplicated, and innovative ERP and CRM software built on modern technology platforms with turn-key consulting and custom development services. The company resells leading ERP accounting software, CRM, and other enterprise business software applications including Sage 100 ERP, Sage 500 ERP, Sage ERP X3, Epicor ERP, and more.