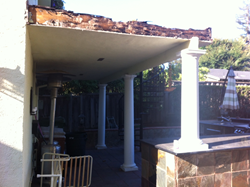 San Francisco, Calif. (PRWEB) June 30, 2015
Golden Gate Enterprises, Inc, a leading San Francisco Bay Area General Contractor, announces the expansion of its dry rot, structural, and deck repair/replacement division. "Bay Area Decks are rotting and failing in significant numbers," stated Paul Gordon President of Golden Gate Enterprises. "We are witnessing the confluence of thousands of aging deck structures, and faulty deck construction."
As a General Contractor that specializes in dry rot, waterproofing, and structural repairs of decks and balconies around the San Francisco area for many years, the company has identified many construction issues that lead to unsafe decks and outright failure. The tragic failure of the balcony deck in Berkeley brings a sharp reminder to all property owners about proper deck construction and maintenance.
"Improper construction, incorrect materials, and lack of maintenance are the culprits," stated Gordon. "Over the years we have seen it all…improper flashing, lack of slope for drainage, inferior waterproofing systems, lack of ventilation, use of the wrong building materials, and incorrect construction." According to Gordon, having a deep knowledge of this specialized construction area is critical. In addition, knowing proper building codes and working with a skilled engineer is crucial. "We frequently see incorrect deck repairs by both licensed and unlicensed contractors that put lives in jeopardy," added Gordon. "You hire a heart surgeon for heart surgery, and you hire a dry rot, deck, waterproofing, deck repair specialist for failing decks. If you don't, you end up in trouble." Gordon has assembled a full service team that handles plans, permits, engineering, and construction.
While there are many reasons for deck failures, Golden Gate Enterprises has written a document that describes many of their findings about deck failures from years of field experience. This information can found on their web site. Dramatic videos documenting deck failures show a fully collapsed deck caused by faulty waterproofing and drainage. In another video, the company shows the results of the incorrect connection of deck framing to the structure of the building causing a complete collapse of the deck. The culprit is wood members ultimately rotting and compromising the structural integrity of the deck structure. Telltale signs of deck rotting include visible indications of fungus growth. "If you have this taking place, your deck is in the process of deteriorating," cautioned Gordon.
Another deeply concerning trend is unlicensed and unqualified contractors performing structural work that puts lives in danger. The company sees inferior work being performed almost every week. It's a challenge for building departments to be everywhere policing all construction. Ultimately, a property owner has to do their due diligence in selecting a qualified deck dry rot repair specialist that has many years of experience, a great reputation, and of course is fully licensed bonded and insured. An experienced company in this area handles plans, permits, engineering, and construction. When it comes to waterproof decks, unless you hire an expert that is factory certified in the products they use, and has many years of field experience doing all phases of waterproof decks, you are risking your entire project.
While there are many types of decks, the most common are post and beam construction with open decking as the finished surface. While these have their own unique issues, the more complex problems reside with cantilever decks (decks that have joists extending from the building), and waterproof decks, and waterproof tile decks. As an expert in cantilever deck construction/repair, and waterproof deck construction, Golden Gate Enterprises, Inc. is called all over the San Francisco Bay Area for their expertise in repairs and new construction. Poor construction can cause major damage even on newer buildings. Golden Gate Enterprises offers full construction services and inspections of existing deck structures.
Golden Gate Enterprises, Inc. is a leading licensed General Contractor and Waterproofing Specialist (CSLB #818840) located in Castro Valley California. The company is A+ rated by the Better Business Bureau and services the greater San Francisco Area including Alameda, Contra Costa, San Mateo, San Francisco, Santa Clara, and Marin Counties. The company has performed hundreds of major structural and waterproofing repairs on failing decks, buildings, and foundations. Golden Gate Enterprises, Inc is a top tier waterproof deck and balcony contractor in the area. Paul Gordon, President of Golden Gate Enterprises is considered an expert in waterproof decks. The company is a full service operation that provides engineering, plans, permits and construction. See http://www.bayareacontractor.com for further information. Contact Paul Gordon, President, at 510-909-8552 for information about this release.
Contact Information: Paul Gordon, 510-909-8552, paul(at)bayareacontractor(dot)com