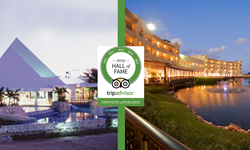 Riviera Maya, México. (PRWEB) June 24, 2015
Sunset World Resorts & Vacation Experiences is happy to announce that Hacienda Tres Ríos has been included in the TripAdvisor Hall of Fame for the fifth year in a row, and Sunset Marina Resort & Yacht Club has become an inductee this year. This means that both Hacienda Tres Ríos and Sunset Marina Resort & Yacht Club have constantly received the best evaluations from TripAdvisor users. Congratulations and thank you!
TripAdvisor is the largest travel site in the world. It boasts over 60 million visitors per month that share their opinion about tourist destinations, hotels, airlines, activities and restaurants. Currently, 80% of travelers plan their trips using the site, always choosing the places with the most and best comments.
Located inside a 326-acre Nature Park in the Riviera Maya, Hacienda Tres Ríos is an all-inclusive luxury resort just 45 minutes south of Cancun's International Airport and 15 minutes from Playa del Carmen. Here, Mexico's past comes together with its present and Mayan and Mexican traditions coincide to create truly unique experiences.
Hacienda Tres Ríos opened its doors to all visitors in the fall of 2008 with 273 suites, constructed with local materials and offering spectacular views of the mangrove and the serene turquoise waters of the Caribbean. A leader in sustainable tourism development, the resort provides guests a surprising experience without damaging the natural and cultural wealth of the region.
The other hall of famer, Sunset Marina Resort & Yacht Club, opened its doors in 1994, an enchanting Mediterranean style hotel located in Cancun on the edge of beautiful Nichupté Lagoon. Surrounded by tropical gardens, it offers its guests quality service and comfort, water activities for the entire family and private yacht rental.