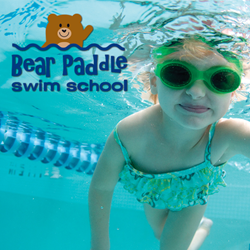 "The instructors at Bear Paddle offer superior instruction, guidance and positive reinforcement. We highly recommend Bear paddle and continue to see progress every time we come."
Bloomingdale, IL (PRWEB) July 10, 2015
Based on the demand for high quality fun swim lessons, Emily Everson and Spencer Rice, co-owners of Bear Paddle Swim School developed a fun new way to teach swim lessons. Bear Paddle's swim program features 30-minute weekly lessons, small classes designed by age and abilities, and safety skill development. Bear Paddle's iron-on swim skill patches teaches young swimmers positive reinforcements in an innovative fun way.
"Even our youngest swimmers will be able to master swim skills, improving their swimming ability and safety. At times it's so much fun, swimmers do not realize they are in the middle of a learning process!" said co-owner Emily Everson.
Bear Paddle Swim School is a local business specialized to be the best in swim lessons! Providing swim lessons and water safety training to Aurora, Woodridge and Orland Park locations in Suburban Chicago. It is known for its quality lessons, friendliness, community water safety outreach and overall fun brand. Convenient and easy online registration available at bearpaddle.com.