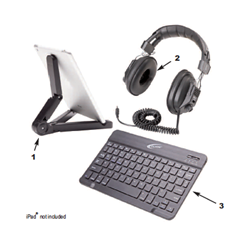 The Mobile Peripheral Pack offers tools that support virtual school students and those who work in flexible learning environments.
San Fernando, Calif. (PRWEB) June 25, 2015
To flourish in virtual or classroom learning environments, students need technology that is as mobile as they are. Califone International, LLC, a leading audiovisual (AV) manufacturer of products used in education, releases its Mobile Peripheral Pack at the 2015 ISTE Conference and Expo in Philadelphia. Ideal for new virtual school students, the kit includes the company's new Tablet Stand, 3068AV headphone and a KB4 Bluetooth® keyboard.
"The Mobile Peripheral Pack offers tools that support virtual school students and those who work in flexible learning environments," said Tim Ridgway, vice president of marketing for Califone. "The Tablet Stand (sku #TPT) supports a variety of mobile devices, and the wireless keyboard frees up students to conduct anytime, anywhere learning."
In addition to the new package, Califone will showcase its full line of AV and ed tech innovations during ISTE 2015, including:

The PA419-02 Portable Bluetooth PA—the first portable PA with built-in NFC and Bluetooth capabilities. This system facilitates multiple wireless presenters with go-anywhere portability.
The PABT31 Bluetooth Speaker—the sleek design now includes a built-in microphone for two-way calling, and an optional wireless microphone for voice amplification.
The Tablet Stand—ideal for day-to-day learning and assessments. The fully-adjustable stand props up a tablet or smartphone, enabling use of a larger (Bluetooth) keyboard for students needing enhanced functionality from their devices for day-to-day work or during testing.
The 3068 Headset—the country's best-selling school headphone is now available with a noise-reducing microphone and a choice of plugs, making it ideal for two-way language learning and testing with mobile devices, Chromebooks, Mac Books, laptop and desktop computers.
The E3 Earbud line—shown for the first time at ISTE. These three, lightweight stereo earbuds are the first to offer an industry-leading 1-year warranty and are sized for smaller students.
For more information, stop by booth 2200 during ISTE, or visit http://www.califone.com for the full line of Califone products.
About Califone
Califone was founded in 1947 and continues to be a leader in the design, development and manufacturing of audiovisual and supplemental curriculum products for use in education. The company's products enable educators to incorporate rich audiovisual resources into lessons that help students build speaking and listening skills, critical to the English Language Arts portion of the Common Core State Standards. Califone offers a complete line of audio solutions, wireless systems and multimedia products for small, medium and large presentation needs, and serves millions of educators and students in the PreK through higher education school environments.
# # #