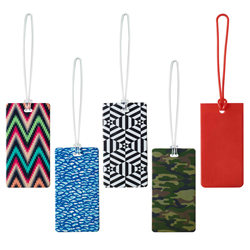 Elk Grove Village, IL (PRWEB) June 26, 2015
As a company that specializes in travel products, LCI Brands™ has released many luggage tag designs over the years, and this year has proved to be no exception.
Released under the Lewis N. Clark® brand, the Self-Laminating ID Tags are available as a 4-pack and do not require any heat to self-seal. Creating a customized luggage tag is fast and easy, and the included ID card or a standard size business card can be used. They're not only great for travel, but for summer camp and school as well.
The Jelly Luggage Tags are constructed of flexible, jelly-like silicone. Available in red, purple, and blue, these bright colors help to identify luggage easily. The Camo Luggage Tags are available in green, pink, and desert, and are also ideal for quick luggage identification.
The newest additions to the Belle Hop® Fashion Luggage Tag Collection are Optic Nerve, Bird, Geometric, Tribal, Waterscape, Ikat, and Chevron. Featuring bold colors and eye-catching patterns, these luggage tags lend their appeal to a collection known for its floral and animal prints, witty travel humor, and designs that are both functional and fun.
All luggage tags are available immediately.
About LCI Brands
LCI Brands (formerly known as L.C. Industries, Inc.) is located just outside Chicago and is home to brands such as Lewis N. Clark®, Belle Hop®, and UrbanGear™. With the luggage caddy as its core offering, LCI Brands began operations in 1971, and since then has expanded to offer hundreds of products in categories such as security, comfort, organization, and health. For more information, visit http://www.lcibrands.com.