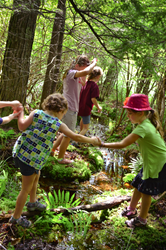 The team's extensive experience in public relations, business development, and content marketing set the agency apart for us.
Portsmouth, NH (PRWEB) July 07, 2015
Calypso Communications, an integrated, full-service public relations, marketing, and creative design firm, today announced that TimberNook (http://www.timbernook.com/) has selected the agency to develop a regional public relations and social media campaign, content strategy, and marketing launch package for new camp providers. TimberNook is a nature-based developmental program for kids, and is designed to foster creativity, imagination, and independent play in the great outdoors.
"From our first meeting, the Calypso team really understood TimberNook's value proposition and identified creative ways to get our message out," said TimberNook Founder Angela Hanscom. "The team's extensive experience in public relations, business development, and content marketing set the agency apart for us."
Working with the TimberNook team, Calypso will design a PR plan to help the company meet its goal to enroll and train new camp providers in the TimberNook model by the end of this year. The agency will also utilize its expertise in content marketing to help TimberNook better define its audience and refine its strategy for content creation and distribution.
"As a pediatric occupational therapist, Angela Hanscom has unique insight into the developmental issues all kids are facing in today's sedentary world. Her message is hitting home with parents and educators alike," said Sarah Flaherty, Calypso's director of content marketing. "TimberNook is well positioned to capitalize on its exposure and grow its business model via newly trained providers and additional camp locations—and Calypso is excited to help."
About Calypso Communications
Based in Portsmouth, N.H., Calypso Communications is a premier, award-winning strategic marketing, corporate communications, and business development consultancy. Highly sought after for its seasoned insight and perspective, Calypso effectively engages stakeholders crucial to driving business and value for clients in the energy, environmental, healthcare, and technology industries. For more information, visit http://www.calypsocom.com.
About TimberNook
TimberNook is an outdoor camp that integrates sensory experiences, imagination, and nature for all kids. Kids play together and independently, using stories, games, and experiences to have fun, learn, develop, and explore. TimberNook views outdoor play as a form of preventative health care for children, and offers trained providers a unique opportunity to build a successful business while making a difference in children's lives. For more information about camps or provider training, visit http://www.timbernook.com/.