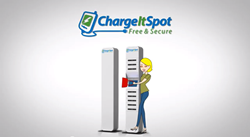 (PRWEB) June 25, 2015
"ChargeItSpot" was featured on NewsWatch as part of its monthly Tech Report, which features the latest and coolest technology products available to consumers. Amanda Forstrom, a technology expert and special reporter for NewsWatch, conducted the review and shared with viewers how this charging station benefits retailers and consumers.
When a person loses their phone or their battery dies, they experience an emotional response – often times borderline anxiety. Often times losing a phone is out of a person's control, but keeping the battery alive is not. Especially thanks to a line of charging stations across the US in major retail stores called ChargeItSpot.
"ChargeItSpot is out in the world solving two massive problems," said ChargeItSpot CEO Douglas Baldasare. "One is that consumers are constantly running low on our phone batteries and we need our phones for everything we do, every single day. The other is that traditional brick and mortar retailers are constantly looking for creative ways to draw consumers in their stores to keep them shopping for longer. Ultimately, to give them an opportunity to buy more of the stuff they sell."
The ChargeItSpot is completely free for consumers to use. To start charging, users just need to go up to the charging station, enter their 10 digit mobile number, and lock their phone in one of the stations. And it's not just consumers who are seeing the benefit of ChargeItSpot. With docks in 120 different locations across retail stores, they've found that consumers are 55% more likely to purchase something in a store when their phone is charging.
To learn more, visit http://www.chargeitspot.com today.
About NewsWatch
NewsWatch is a weekly 30-minute consumer oriented television show that airs on the Discovery Channel and ION Network. NewsWatch regularly features top technology products and services, mobile applications for iOS, Android, and Windows devices, unique and beautiful travel destinations around the world, health and medical tips, and entertainment interviews on the show. NewsWatch airs on the Discovery Channel at 7:00 – 7:30 AM ET/PT.
NewsWatch is located in the greater Washington, DC area and has been on air for over 25 years. For more information or to watch the most recent episode, visit http://newswatchtv.com/tech-report.html.