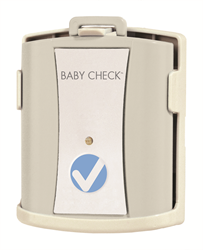 "One of the challenges with existing mother-baby matching solutions is that by the time a mismatch is recognized, the baby is already in the wrong mother's room. That's too late." --Paul Larson, VP Technology
Brookfield, Wis (PRWEB) June 25, 2015
RF Technologies, a leading provider of active radio frequency identification (RFID) safety and security solutions, introduces Baby Check™, its latest release of mother-baby matching solutions. The wireless Baby Check solution provides an added measure of protection against patient misidentification and improves the accuracy of patient identification in line with The Joint Commission's "National Patient Safety Goal," NPSG.01.01.01, which recommends providing at least two patient identifiers when providing care, treatment or services. Verifying that the infant is being reunited with the right birth mother reduces the potential for a mother-baby mismatch.
Integrates with Existing Safe Place® Solution
Baby Check integrates with existing RF Technologies' Safe Place infant security solutions, allowing nurses and staff to respond quickly. They are notified of a potential mismatch using mobile notification devices and/or a central computer station. Confirmation occurs before verifying mother-baby ID bracelets bedside. According to Paul Larson, Vice President of Technology at RF Technologies, "One of the challenges with existing mother-baby matching solutions is that by the time a mismatch is recognized, the baby is already in the wrong mother's room. That's too late. Baby Check allows staff to discreetly pre-check for a mother-baby match before entering the mother's room." This helps improve patient identification accuracy, maintain the family's feeling of security, and eliminate embarrassment for the hospital or birthing unit. Activities and events are all recorded in software for automated reporting and to help the birthing unit meet Joint Commission requirements.
Simple, Automatic Process
Baby Check uses wireless, wall-mounted transmitters and the hospital's existing Safe Place® tags to confirm the infant is taken to the right room to be reunited with the right mother. Installation of the wireless Baby Check transmitters is quick and easy, requiring no wires to pull or reconfiguration of existing infrastructure.
Live demo at Campus Safety National Forum
Visit RF Technologies at Campus Safety National Forum, Booth 414, to view a live demonstration of the Baby Check solution, and to learn more about the benefits of Baby Check mother-baby matching solution. Otherwise, visit us at http://www.rft.com, or call 800.669.9946.