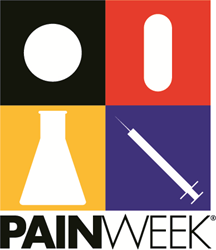 Montclair, NJ (PRWEB) June 26, 2015
PAINWeek—the largest US pain conference for frontline practitioners with an interest in pain management—is back with "Neuropathica Galactica," returning due to its popularity last year when it first premiered. The Neuropathica Galactica workshop, presented by the American Society of Pain Educators, will provide a full-day, highly interactive journey in pain management and education through 6 hours of application and practice-based courses.
Chris Herndon, PharmD, BCPS, CPE, and PAINWeek faculty member, commented, "Neuropathica Galactica is a cerebro-cosmic, highly-interactive, interplanetary voyage through the pathogenesis, symptom analysis, and patient education of pain. Using case-based learning in a patient-tracer format, participants will assess a pain complaint, educate a simulated patient on their likely pain syndrome, and develop comprehensive treatment and monitoring plans. Pain etiologies such as fibromyalgia, osteoarthritis, chronic postsurgical, chronic low back, rheumatoid arthritis, postherpetic neuralgia, and diabetic neuropathy will be discussed. It is a foundational course for any practitioner who would like to pursue the Certified Pain Educator (CPE) credential."
To ensure a problem-solving, application-rich experience, the activity will again be limited to 60 participants. Preregistration is required, and an additional $150 registration fee will apply. Interested participants may preregister (or amend a current registration) at http://www.painweek.org.
Also returning—for its 10th consecutive year—is the highly popular Pain Educators Forum (PEF). Presented each year by the American Society of Pain Educators, the PEF seeks to provide a foundational preparation in pain management for the frontline practitioner. Sessions cover best practices in pain management as well as ways to effectively teach, transfer, and communicate what has been learned to other healthcare professionals and patients, families, and caregivers.
Along with the PEF, the PAINWeek 2015 curriculum features a wealth of course concentrations, including behavioral pain management, complementary/alternative pain management, health coaching, interventional pain management, master classes, medical/legal, musculoskeletal pain conditions, neurology, palliative care, pharmacotherapy, podiatric pain syndromes, regional pain syndromes, as well as special interest sessions such as Injection Techniques; State Dosage Thresholds and Their Potential Impacts on Pain and Overdose Prevention; The Bulletproof Prescriber; Stem Cell Therapy: The Way to the Future of Pain Management; and Medical Cannabinoids: An Update on What You Need to Know for Your Practice.
Another returning favorite is the nurse practitioner track, which this year features courses such as Demystifying Pain Management: One Case at a Time; Opioid Rotation: An Effective Technique in Reducing Opioid Dose and Mitigating Risk; and The Complex Pain Patient: Addiction, Obesity, and the Elderly.
The PAINWeek curriculum now encompasses over 120 CE/CME course hours, enabling attendees to earn over 40 AMA PRA Category 1 Credits. Additionally, over 100 exhibitors will be participating at the Exhibit Hall, commencing with the traditional Welcome Reception on Wednesday evening.
Significant registration discounts are available to individuals and groups during "early-bird" registration until July 31, 2015. Visit http://www.painweek.org to register. Groups of 5 or more PAINWeek registrants will receive one free registration.
PAINWeek—the largest US conference on pain management, is provided by Global Education Group.