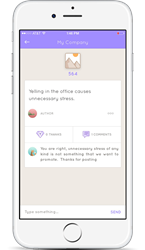 San Francisco, Calif. (PRWEB) June 25, 2015
BetterCompany today announced the launch of its social network for work life. BetterCompany is a conversation platform and community that forms around people in their work day, providing a safe, respectful place to share their work life with coworkers and professional peers.
"For many of us, our work life consumes the majority of our waking hours. Yet, there has been no place to share about our work day online with others that can relate to our experiences. BetterCompany aims to fill that gap," said Tom Williams, founder of BetterCompany. "The reason no one has done this before, is that to do this right is very hard. It requires creating a safe environment as well as a relevant community that can actually deliver on this promise. And we believe the best way to ensure both honesty and safety is that everything posted on the platform is identity-free."
BetterCompany offers people two communities, Company Network and Circle. Within Company Network, coworkers can share with each other to have work-related conversations. Within Circle, users gain access to a community of peers outside their company who can relate to their work day and give support and advice.
Across the entire BetterCompany platform, users' identities are never revealed, enabling candid and helpful conversation. Discussions on other social networks about work are frequently stifled or kept superficial as many people feel too vulnerable airing work-related thoughts and questions. BetterCompany eliminates those risks and fears by ensuring that all content is identity-free. Everyone is safe to join the conversation, and comments are judged on merit rather than job title. Community behavior is guided and upheld by human moderators and operators.
BetterCompany's mobile platform is available for iOS and Android and can be downloaded free in the App Store and Google Play.
About BetterCompany
Based in San Francisco, BetterCompany has raised $7.7M in venture funding to date. BetterCompany is the safe conversation platform and community that forms uniquely around you and your work day. No matter what kind of work that you do, BetterCompany is here for every day of your work life. For more information, visit http://www.bettercompany.com.