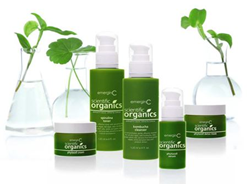 As a company that has prided themselves as being on the forefront of the green movement for nearly 20 years, to be selected by Virgin Hotels is a tremendous and validating honor
Chicago, IL (PRWEB) June 25, 2015
emerginC has partnered with The Spa at Virgin Hotels Chicago to offer skincare treatments and product offerings. The lifestyle hotel, founded by entreprenuer Richard Branson, selected emerginC, a line that paved the way for eco-conscious beauty, to further his "change business for good" mantra and mission for environmental sustainability.
emerginC products will be used in a variety of facial treatments at The Spa, including the Gentleman's Facial using grape stem cells and pine bark extract to fight aging; Make it Snappy mini facial using emerginC's popular Vitamin C + retinol mask to combat breakouts; Flawless Finish facial using emerginC Apple Stem mask to help tone and tighten and Vitamin C Serum to hydrate the skin; and the emerginC Peel and Glow, created exclusively for Virgin Hotels, combining active Vitamin C, natural fruit acids and a wide variety of potent botanical extracts and coenzymes to brighten skin while minimizing the appearance of fine lines and wrinkles.
"As a company that has prided themselves as being on the forefront of the green movement for nearly 20 years, to be selected by Virgin Hotels is a tremendous and validating honor," says emerginC CEO and founder Ian Lirenman.
Touted for its all-natural formulations, including the Scientific Organics range, made with 100% natural and minimum 70% organic ingredients, emerginC embodies luxury and high-performance treatments for both face and body, and is committed to industry-leading green initiatives:

Buy One, Plant One: For every retail-sized product sold, emerginC plants a viable, indigenous tree in a non-harvest location.
emerginBees: emerginC is working to create essential habitats to increase the honeybee population, a species on the verge of extinction. Without their pollination, we lose out on food crops, medicines and more. Through the emerginBees program, emerginC offers seed bombs – a combination of compost and clay that acts as a carrier for milkweed seeds, the preferred flower of honeybees and other pollinators – with every order.
emerginCeeds: With every product delivery, emerginC includes a packet of USDA organic mixed lettuce or arugula seeds to encourage home vegetable gardens, putting people in control of the food they eat.
Further to these efforts, emerginC incorporates Fair Trade ingredients, manufactures brochures and product boxes with paper from sustainably managed forests, utilizes non-toxic vegetable ink for printing, ships orders using UPS' carbon neutral shipping option and the Brooklyn-based office runs on 100% wind power.
The Spa at Virgin Hotels Chicago is open 10:00 am – 10:00 pm daily. For an entire menu of spa offerings, please visit: virginhotels.com/thespa. To make an appointment, please email spachicago(at)virginhotels(dot)com, call 312.940.4790 or visit http://www.virginhotels.com.
About emerginC:
emerginC creates one of the most active, cosmeceutical and medical-grade skincare lines on the market today. Using only high-quality, cutting-edge ingredients, emerginC is formulated with natural plant-based preservatives instead of parabens and offers advanced technology combined with incomparable quality and age-defying results.
In 2008, all emerginC skincare was re-launched to be paraben-free, as well as free of artificial colors and fragrances. All ingredients are sourced as naturally as possible, including the use of Fair Trade components. emerginC does not test on animals or use animal ingredients. In 2010, emerginC launched their 100% natural scientific organics collection, free of parabens, petro-chemicals and synthetic fragrance, with a minimum of 70% organic ingredients in every product. Employing eco-friendly practices further than their beauty products, the company is headquartered near the waterfront of Brooklyn, with weekly yoga classes, rooftop vegetables, flowers and chickens that provide organic eggs year round. They are also a proud compact signer at safecosmetics.org.
For more information, please visit http://www.emerginc.com.
About Virgin Hotels:
Virgin Hotels is a lifestyle hospitality brand that combines heartfelt service, straightforward value and a seamless, personalized hotel experience with the track record of innovation and smart disruption that Sir Richard Branson's global Virgin Group has pioneered for over 40 years. Each property will intermix a passion for food and beverage with music and culture, fusing with the local landscape and providing a vibrant and inclusive environment for travelers and locals alike. Chicago opened in 2015, with New York, Nashville, Dallas and others to follow. For more information, please visit http://www.virginhotels.com.