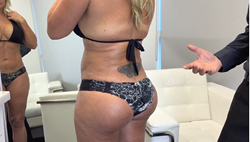 Brazilian Butt Lift results are best when the procedure is done in a way to complement a woman's body contours
Beverly Hills, CA (PRWEB) June 25, 2015
"The Brazilian Butt Lift continues to be a popular procedure, and demand is only increasing," says Dr. Dennis Dass, a plastic surgeon who specializes in buttock augmentation using fat transfer. Dr. Dass says viewership on his You Tube channel, "Dennis Dass" has jumped 500% in just a few months since he started to add real patient's stories and results. "Women love to watch an actual patient's experience and see the results of her procedure," says Dr. Dass. "We're seeing more inquiries from women across the country who are interested in coming to Beverly Hills for buttock augmentation."
The most recent video added to the channel, "Brazilian Butt Lift Beverly Hills First Visit To Patient's Big Reveal" shows patient "Jennifer" as she visits Dr. Dass for a consultation. Jennifer learns how a Brazilian Butt Lift will add contours and projection with fat transfer to her buttocks while sculpting a beautiful waistline and abdomen. Next, Jennifer is shown prepared and ready to undergo her butt lift. Finally, Jennifer & Dr. Dass show her beautiful results in a bikini, six weeks after her procedure. The direct link to the video is https://youtu.be/nTOSG2n3pGg
"Pop culture has made ample buttocks a desirable fashion statement," says Dr. Dass. "We're seeing women from all walks of life and all ages who are interested in improving their body contours. Some wish to go large, while many just want to improve their body contours and look better in street clothes or in a bikini."
Dr. Dass says that Jennifer's results are typical of the attractive look that can be achieved when planning a Brazilian Butt Lift to complement each woman's body proportions. "Advanced techniques in fat transfer to the buttocks take unwanted fat from other areas of the body using liposuction. The fat is used to add volume and projection of the buttocks," he says. "We're also seeing a new trend as women having 'Mom's Makeovers' are adding Brazilian Butt Lift to their desired procedures." For more information on the Brazilian Butt Lift by Dr. Dennis Dass in Beverly Hills, CA visit http://www.DassMD.com and call 310-878-4800.