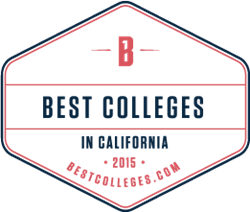 ...a ranked list that fairly captures institutions' education quality without branding hype...
(PRWEB) June 25, 2015
Diverging from the traditional rankings that solely focus on big names in education, BestColleges.com has released a review of California's top colleges. Using a methodology designed to give all schools equal footing, the site has dismissed the 'expert opinions' that often skew results. The unique formula uniformly weighs metrics like acceptance, retention, graduation and loan default rates, creating a list of schools with excellent student performance and satisfaction, many of which are overlooked or underestimated by other publications.
Despite its international regard, the California higher education system is seriously hampered by an inability to accommodate the growing number of prospective students. As more and more applicants find themselves deterred by the state's low acceptance rates, BestColleges.com is going against the grain and reassuring those students. They do so with a ranked list that fairly captures institutions' education quality without the branding hype that puts smaller schools at a disadvantage when competing for applicants. While several big name universities are featured on their list, BestColleges.com's rankings strive to promote the educational opportunities not highlighted elsewhere.
This practical guide is a refreshing resource for the millions of students selecting California as their state of choice for higher education. In addition to these rankings, the site hosts a collection of useful resources for prospective California students, including a guide to establishing residency, funding an education in California and a breakdown of the differences between two and four-year colleges in the state.
For questions and comments regarding the BestColleges.com rankings or website, please contact Stephanie Snider: Stephanie(at)bestcolleges(dot)com.
Top 4-Year Schools
1. Stanford University
2. Claremont McKenna College
3. Pomona College
4. UCLA
5. USC
Top 2-Year Schools
1. Napa Valley College
2. Las Positas College
3. Orange Coast College
4. Moorpark College
5. Irvine Valley College
About BestColleges.com
BestColleges.com was founded in 2012 with the mission of helping prospective students find the college that best meets their needs. Visitors to BestColleges.com can find the tools and resources to succeed throughout their higher education career. Those in the college planning stage can take advantage of college rankings, a searchable database of schools, and financial planning guides.