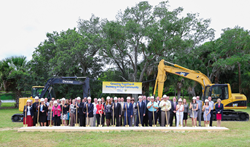 Melbourne, FL (PRWEB) June 25, 2015
Space Coast Credit Union (SCCU) hosted a special ceremony on June 23, 2015 to commemorate the groundbreaking of its $30 million headquarters expansion project to support its continued growth. The $3.4 billion credit union is the third largest credit union in Florida serving more than 300,000 members with 58 branches spanning Florida's east coast, from Flagler to Miami-Dade counties. Construction will begin with a new 500-vehicle parking garage. The improvements include three new building additions to the existing headquarters building located at 8045 N. Wickham Road, Melbourne, FL.
SCCU's headquarters currently houses over 300 full-time employees. The new building expansions will allow the credit union to add up to 600 new jobs over time and will also include significant improvements to traffic patterns along busy Wickham Road.
"SCCU has grown with our communities for over 60 years, but since 2009 when we expanded to serve members in South Florida our growth has outpaced our facilities in which our employees work to serve our member-owners. Our strong growth has accelerated our need for additional staff and space so we can meet the evolving needs of our membership. We're pleased that we can expand and keep our headquarters at the current location, where we enjoy a rich history and strong ties," stated Doug Samuels, CEO and President of Space Coast Credit Union.
In addition to the Melbourne headquarters, the credit union has an operations facility in Miramar Florida with nearly 100 employees plus a network of 58 branches. SCCU has over 750 employees in total. The credit union anticipates its growth will also create increased staffing needs at its South Florida operations facility, and it recently opened three new branches in Volusia, Brevard, and Broward counties, with plans for more locations in the future.
Melbourne-based Building Management Systems (BMS) has been contracted to lead the project. The general contractor is locally owned and has been operating in the community for more than 30 years.
"We have been honored to be part of the growing SCCU team for many years. The relationship and dedication to conservative stewardship of member resources has proven to be a win-win relationship for both entities. We are pleased to take part in a local project that will enrich our local community economy and bring new jobs to the Space Coast. We are also excited to lead this headquarters expansion effort while including many Brevard County vendors and contractors," said Doug Padgett, CEO and Chairman of the Board for Building Management Systems, Inc.
The first phase of this expansion project is anticipated to be completed in the first quarter of 2016.
###
About SCCU
Space Coast Credit Union was chartered in 1951 and is headquartered in Melbourne, Florida. The credit union serves more than 300,000 members with assets of over $3.4 billion through a network of 58 branches and over 100 ATMs located throughout Florida and through its website sccu.com. Space Coast Credit Union is open for membership to anyone who lives or works in the fourteen Florida counties it serves. Locations can be found at sccu.com/locations.
About BMS
Building Management Systems, Inc. is a locally owned and operated Florida State Certified Commercial Construction Company founded in 1981 and located at 1675 S. John Rodes Boulevard in Melbourne Florida. The BMS Team specializes in Design/Build, Construction Management and Construction Projects of all sizes including commercial, educational, industrial, manufacturing, medical and multi-family facilities. Doug Padgett, CEO, leads the company with over 35 years of experience and expertise in commercial construction. For more information, please visit http://www.bmsconstruct.com or call (321) 723-6938.