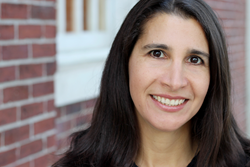 Moms buy everything from sports drinks to prom dresses, diapers to dog food, lipstick to laptops, autos to pharmaceuticals
New York, NY (PRWEB) June 25, 2015
Leveraging hot-off-the-press findings from Smarty Pants' 2015 Young Love study of kid and mom brand affinity and usage, Michelle Poris, Ph.D. Dir. Quantitative Research, Smarty Pants , will share the secrets to succeeding not only with moms but with their most powerful influencers – their children, at M2Moms® - the 11th Annual Marketing to Moms Conference. M2Moms® http://www.m2moms.com will be held October 6 & 7, 2015 at the New York Marriott Downtown. M2Moms® is an executive learning event that teaches brand marketers how to increase their share of moms purchasing.
"My session titled, Don't Forget The Kids! Secrets To Winning With The Whole Family will show that understanding moms … and dads … is only half of the equation when it comes to creating brands that truly connect with contemporary families, Poris explained. "That's because moms don't just satisfy their own needs; they are the unique "super-consumers" that live and shop to meet the needs of others as well."
"Moms really are brand-critical decision makers for a broad range of products and services," according to Liz Fongemie, M2Moms® producer. "The Fast Facts page on M2Moms® website is filled with statistics showing that moms buy everything from sports drinks to prom dresses, diapers to dog food, lipstick to laptops, autos to pharmaceuticals. They buy for their homes, for their kids and they plan and pay for the family vacation. They purchase on every channel, every possible screen … traditional and new media, they use it all."
"Know-how, research, case studies, workshops, peer-to-peer learning and networking, M2Moms® delivers everything brand marketers and their agencies need to keep up with today's ever evolving, demographically changing moms," Fongemie.
"Every year," Fongemie continued, "M2Moms® is attended by a really comprehensive and diverse list of brands including Microsoft, Johnson & Johnson, Evenflo, IKEA, Abbott Nutritionals, GM, Allstate, Heinz, Symantec, Hasbro, BBC, NBA, Procter & Gamble, Wyeth and Coca-Cola. M2Moms® typically sells out every year. Marketers attend because they know that keeping up with today's moms is critical to building and maintaining market share in virtually every industry and product category."
Preliminary 2015 M2Moms® sponsors include Associate Sponsors: Saatchi & Saatchi, Ketchum, Mabel's Labels, Univision, MtoM Consulting, TapInfluence, Bundoo, Smarty Pants, School Family Media; Showcase Sponsors: Sprout, The Motherhood, PTPA Media, Ibotta, CBX, Mom Central Consulting, Kid Kritics Approved, Little Big Brands, Lake Group Media, Macaroni Kid, May Designs, Marakae Marketing; Workshop Sponsors: The Bump, Eric Mower & Assoc., C+R Research; Video Content Resource: Snippies.
For M2Moms® information: http://www.m2moms.com or 860.724.2649 x11. M2Moms® is produced by PME® Enterprises LLC, 912 Silas Deane Hwy., Suite 101, Wethersfield, CT 06109.