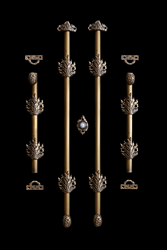 With his new addition to the Willow collection of door hardware, Martin Pierce gives us another example of his functional art.
Los Angeles, CA (PRWEB) July 07, 2015
Martin Pierce Hardware has been casting architectural hardware in Los Angeles for the last 15 years. The company is known for creating quality bespoke hardware for the luxury residential and hospitality sector. They are a trade only company used by both domestic and international designers.
With his new addition to the Willow collection of door hardware, Martin Pierce gives us another example of his functional art. Pierce feels that much of the hardware in the market is "generic" and "lacking in beauty." His approach is to "first create a beautiful design" and then "figure out how to make it a functional piece of hardware."
The Willow collection of bronze door handles and cabinet pulls was launched by Martin Pierce in 2004. It began with the introduction of their signature Willow entry sets cast in solid bronze with an oil rubbed finish. The series was named "Willow," as it was, according to Martin Pierce, "an artistic three dimensional expression of Willow leaves bending and cascading in the wind." This inspiration can clearly be seen in the intricate overlapping leaves that are present in the door knobs and levers and in the vortex of filigree that make the Willow heroic door pull. As with all of their work, these castings are made in lost wax method which, while time consuming, is a process that allows them to create exceptionally detailed pieces. It is the detail and artistry of their work that sets them apart as a door hardware designer.
The Willow series has grown over the years in response to designer demand and now includes bathroom accessories including towel rails and soap dishes, and most recently a door bell and cremone bolt have been added. A cremone bolt or surface bolt is typically used to hold one of a pair of doors in place and tends to be seen in older grand residences. Pierce felt that his Willow designs "being more classical in style would be perfect for this new piece of hardware."
The Willow cremone bolt is available in standard sizes;
2"W x 3"D x 12"H and 2"W x 3"D x 24"H and custom sizes upon designer demand.
Martin Pierce, founder of Martin Pierce Hardware, was born and educated in Worcester, England. He received no formal art education but was trained as a wood carver and became a master wood carver and sculptor. He left England with his wife Anne and moved to Los Angeles, where they began their furniture collection. The absence of suitable artistic cabinet handles led Pierce to begin creating functional art, firstly in the form of cabinet pulls and later as door handles, bathroom accessories and most recently lighting.