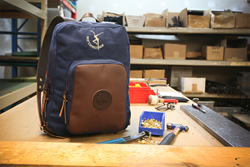 We know that they will enjoy using the bags as much as we enjoyed making them.
St. Paul, MN (PRWEB) June 25, 2015
Duluth Pack has announced that they will be teaming up with the XCEL Energy Center by handcrafting bags for Dave Matthews Band. Duluth Pack will be delivering the bags on July 1st prior to the concert in Saint Paul, MN. This is the third partnership with the XCEL Energy Center for the Minnesota-based company and second during 2015. In the past, Duluth Pack has handcrafted products for the world-renowned bands Mumford and Sons and Maroon 5.
"We are very excited to be able to team up again with our friends at the XCEL Energy Center and put Duluth Pack products in the hands of Dave Matthews Band," said Tom Sega, Duluth Pack's President. "Everyone at Duluth Pack is thrilled, and we're happy that we can be a part of having the band remember their time here in Minnesota."
Duluth Pack has taken their well-known Deluxe Laptop Daypack in Navy Canvas and customized it specifically for the band. "Making bags for one of the most successful and long-standing touring bands is a tremendous honor," said Abe Pattee, Duluth Pack's Marketing Manager. "We know that they will enjoy using the bags as much as we enjoyed making them."
Dave Matthews Band is led by lead vocalist and guitarist, Dave Matthews. The band, which originated in Charlottesville, Virginia, has been touring continuously for nearly 25 years and has six consecutive studio albums debuting number one on the Billboard 200 chart. The band has 14 Grammy nominations and one win.
Fans interested in purchasing the bag can find it on duluthpack.com or at their flagship retail store located at 365 Canal Park Drive in Duluth, MN.