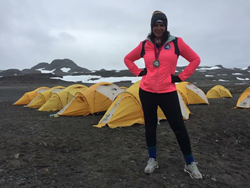 "Once I have completed this," said Hartrick, "I will be one among a group of less than 150 women in the World who have accomplished this feat, and my plan is to do it in under 2 years. "
Ivins, Utah (PRWEB) June 30, 2015
World traveler and marathon runner, Elaine Hartrick, will be returning to Movara Fitness Resort in Ivins, Utah on August 23 to September 5, 2015 to celebrate her induction into the Seven Continents Club. The Seven Continents Club is a group comprised of athletes who complete a marathon or half-marathon on all seven continents.
"Once I have completed this," said Hartrick, "I will be one among a group of less than 150 women in the World who have accomplished this feat, and my plan is to do it in under 2 years. "
Hartrick has already finished races in six of the seven continents. Her very first race was in St. George at the Snow Canyon Half-Marathon in November 2013 which fulfilled the requirement for a North American race. After that, in May 2014 she completed a half-marathon at the Great Wall of China, fulfilling the requirement for a race completed in Asia. In June 2014 she also raced in South America on Easter Island.
Most recently, she has completed one of the world's most difficult and strenuous races, a half marathon in Antarctica in February 2015 and just two days ago, she crossed the finish line in Zimbabwe. Elaine departs for Australia next week.
Apart from these races, in 2014 Hartrick also climbed 20,000 feet on Mt. Kilimanjaro and completed the Camino de Santiago, a trail spanning 500 miles across the Great Pyrenees Mountains in Spain and France.
Hartrick first started her goal of becoming a member of the Seven Continents Club in 2014 after spending 34 weeks at Movara Fitness Resort in Ivins where she had the experience of a lifetime discovering a passion for running and hiking. She also not only lost a significant amount of weight and regained physical health, but she also formed strong friendships with the resort staff and fellow guests that would inspire her to begin a journey that would take her all over the world.
When she first checked into the resort in 2013, Hartrick had been searching for a fitness camp and an escape from traumatic events that had been happening in her life.
"Movara is where she found a safe haven," said Hartrick, "They are my family."
Hartrick had endured years of physical and emotional abuse from her husband whom she married at 19. She felt broken and helpless, as what she endured had injured her so deeply that it consumed her physical and emotional health.
"In the later years of my marriage where it was becoming more and more difficult to cope, food became my outlet," said Hartrick, "I didn't drink or smoke, I ate and so I became unhealthy and overweight."
She began seeking help, and after one final abusive incident she found herself thrown outside, providing her the opportunity to escape.
"It was the first time he had thrown me outside, and I thought to myself, "here is my chance", and so I ran to the neighbor's house and called for help," said Hartrick, "I haven't looked back!"
Those that know her personally, say that she is an incredible inspiration and that her sweet demeanor and passion for living is contagious.
Hartrick is also writing a book called Freeing Snow White, which is scheduled to be released in August 2015. With two more races to complete before her induction into the Seven Continents Club, Hartrick is returning to Movara Fitness Resort to prepare for her final races and to be a guest lecturer. Hartrick will be sharing her story with the guests and community.
For those interested in coming to Movara Fitness Resort to spend time by participating in the fitness program with Hartrick and attending her keynote, they are encouraged to visit http://www.movara.com or call 888-870-2639.