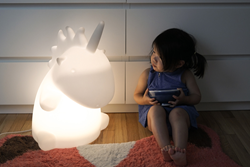 It glows a soft-light and has a multi color unicorn rainbow mode.
Los Angeles, CA (PRWEB) June 25, 2015
On June 23 2015, Smoko Inc. launched a Kickstarter campaign that features a 20" tall Giant Unicorn Lamp that creates extraordinary light ambiance. "It also has adjustable settings for speed and brightness, but whether it's turned on or off, the Giant Unicorn Lamp makes a great visual impact perfect for your living space!"
There is no reason why lamps have to be boring. The Giant Unicorn Lamp from Smoko Inc. on Kickstarter is a multi color LED lamp that can enhance the user's current state of mind. It comes with a wireless control that can change colors with just a push of a button.
"After the production of our popular Mini Uni Light, we decided to create an extra-large version that would be sure to make a visual statement. In addition to the increased scale, we also added multi color options. The extra large size and endless color combinations make for a magical experience! We think its modern clean-line design will look great in your space. The Giant Unicorn lamps glows a soft-light in the dark and has a multi color unicorn rainbow mode."
The Giant Unicorn Lamp is priced at $85 for the first 100 backers, retails at $125 dollars.
For more information, please visit the http://www.giantunicorn.com or Kickstarter page here or contact the creator below.
Contact Information:
Jen Yen
(424) 253-5223
Smoko Inc.
info(at)smokonow(dot)com