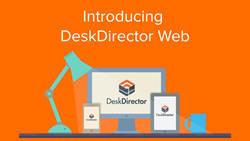 Los Angeles, CA (PRWEB) June 29, 2015
The Multilingual Web upgrade further enhances the recently released DeskDirector Web client. It allows MSPs the ability to offer the same benefits of the client portal to non-English speaking clients.
With the Multilingual Web version:

End users can easily switch DeskDirector to their preferred language and the application will remember this setting
MSPs can now start providing the same support portal experience to non-English speaking clients
When logging support requests, end users are able to choose from a service catalogue in their language
Languages supported include English, French, Spanish, German, Dutch, Italian, Portuguese and Polish
Additional languages can be added on request
"Finally, MSPs who work with non-English speaking clients have a support portal they can offer in their language," says Phill Claxton, Co-Founder, DeskDirector. "We've received a lot of positive feedback from the clients as early adopters."
"Autotask works with companies internationally, and it is great news to hear that our customers now have an option to provide their clients a portal in their native language," said Len DiCostanzo, Senior Vice President of Community & Business Development at Autotask.
About Autotask (http://www.Autotask.com)
Autotask provides one of the world's leading hosted IT business management software to streamline and optimize business process for technology solutions providers. Autotask provides real-time service delivery intelligence to help users understand the factors that drive their business and profitability.
About DeskDirector (http://www.DeskDirector.com)
DeskDirector is a portal tool that has been built for IT Service Providers to better serve their clients' needs by using innovative features such as providing self-service, notifications, customizable support forms and ticket approvals. DeskDirector provides unparalleled customer service, ensuring it continues to foster stronger relationships with both its customers and partners locally and internationally. To see how DeskDirector can promote success through its innovative features, visit their website.
###