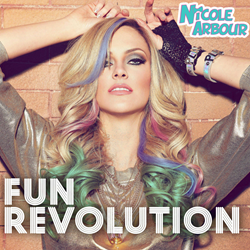 TORONTO, ON (PRWEB) June 26, 2015
Hot off the buzz from rocking the red carpet at the MuchMusic Video Awards with her one of a kind emoji dress, and choreographing the talked about performance of the night for international music star Omi of "Cheerleader" fame — (Arbour's first self-produced music video "Bang Bang" featured over 100 of the best cheerleaders in the world and hit 300k+ views before the track even went to radio) — Arbour is making jaws drop again with her new video for "Fun Revolution."
"This is the first ever video of its kind, and it's so exciting! I had the idea and called my favourite creators (like Santoro) and brands to make almost an homage to the Periscope experience. What you see in the video are real comments by real fans, and creating that interactive experience for them to me is the future of entertainment." - Nicole Arbour
A seasoned entertainer-turned-new-media-rock-star, Arbour is currently toted as the rookie YouTube star to watch, having garnered millions of views on her original and branded content. She currently sits among the top 10 Periscopers in the world passing major celebrities with over 9 million likes on her broadcast in a few weeks, and has had the honour of speaking on panels for Youtube and Google with topics ranging from how brands can successfully use YouTube and branded content, to women's issues in entertainment. She was also the online fan vote winner for the 2015 Shorty Awards for social media's "Best Comedian."
On the traditional media side, Arbour has been featured on television and radio specials across North America, was a NBA cheerleader, and headliner at the LA Comedy Festival with her outrageously original girly stand up. Nicole Arbour can currently be seen on three televisions shows:
"CMT Hottest" on CMT, "TMI" on Super Channel and "Sunny Megatron" on Showtime.
Arbour has also served as a regular on Much Music, opened for superstar Jason Derulo, and walked the runway at Toronto Fashion Week. She has also created award-winning, record-breaking, branded entertainment/marketing campaigns for brands like Virgin Mobile, Nike, Molson and AXE, and has sold over 100k copies of her "World's Sexiest Comedian" calendar.
"Fun Revolution" also features a multitude of bonus content including a dance tutorial, makeup tutorial from Inglot Cosmetics on how to re-create the look, and behind the scenes footage. Inglot also released a special "Fun Revolution" collection to accompany the video, via their Canadian store.
Watch the video: https://www.youtube.com/watch?v=JThD9I1qZWI
For more information about the video or to set-up an interview, please contact PR contact: Karine Delage.