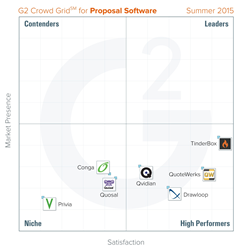 Chicago, IL (PRWEB) June 25, 2015
The first Grid℠ report for proposal tools, published today by business software review site G2 Crowd, ranks seven products to help purchasers in their selections. TinderBox was one of four platforms to earn High Performer status in the Grid℠, and it earned the highest ranking for overall satisfaction in the crowdsourced report.
As no Leaders were named in the report, new data will almost certainly affect the products' standing for the next report.
The Grid℠ was created from G2 Crowd's software review platform, which compiles customer satisfaction as reported by users, along with vendor market presence as determined from public and social data, to rank products.
The Summer 2015 report is based on nearly 200 reviews written by business, marketing and analytics professionals.
Proposal software is designed to streamline and automate the proposal process for sales operations. They can be used for generating quote documents, proposals, as well as respond to RFP questions, and companies of all sizes utilize proposal software for their sales teams.
Of the more than 90 software vendors listed in G2 Crowd's Proposal Software category, the seven ranked products each received 10 or more reviews to qualify for inclusion on the Grid℠.
To qualify as a Leader, a product must receive a high customer satisfaction score and have substantial market presence. No Leaders were named in this report. High Performers have high customer satisfaction scores with a smaller market presence than Leaders. TinderBox, Qvidian, QuoteWerks and Drawloop were named High Performers.
Across all proposal products, reviewers reported the product they use meets their requirements at an average rate of 84%, and on average reviewers said they were 81% likely to recommend the product they use. Customer service seems to be something proposal software companies do well, as the products averaged 92% for Ease of Doing Business.
Some highlights from the proposal software reviews on G2 Crowd:
"Tinderbox offers a nice way to store content and quickly plug it into standard formats. The web-based output is attractive, simple to use and navigate, and good for what it is intended for."

Nicole Dunn, VP of Strategy and Research at Thomas P. Miller and Associates
"QuoteWerks automates many of the tasks we use to do manually when it comes to Quoting product and services. But better [than] that, it has integrated seamlessly into our quoting and purchasing processes...I can say without hesitation that QuoteWerks is the single most responsive and client focused vendor we have worked with in over 20 years of doing business."

Shawn Walsh, CEO of Paradigm Computer Consulting, Inc.
"We love the quality control Qvidian provides. We are able to input numbers, figures and stats correctly and update them as they change so easily, in just one step! Entering them one time then having them enter in through merge codes is such a huge leap forward in quality control and reduction of human error."

Annie Doyon, Sr. Marketing Support Specialist at BDO USA, LLP
"DrawLoop spent a lot of time getting things to work for our company's unique set up and even developed a custom feature to help us link everything together. They are very client oriented and will do whatever needs to be done to help with your business."

Tia Nelson, Senior Technical Writer at PhoenixNap
Satisfaction rankings are generated from the user reviews, and market presence is calculated from vendor size, market share, and social impact. Based on a combination of these scores, each software solution is categorized as a Leader, High Performer, Contender, or Niche.
Premium proposal product research access can be purchased on G2 Crowd's website for $599. The report offers the original data for filtering and weighting, as well as individual profiles of each platform, detailed company information, user satisfaction ratings, feature scores and customer metrics. Future refreshes of the Grid℠ will provide updated rankings based on the latest reviews and social data.
Be sure to check out the new Grid℠ for the best proposal tools and subscribe to the premium research.
About G2 Crowd, Inc.
G2 Crowd, the world's leading business software review platform, leverages its 32,000-plus user reviews to drive better purchasing decisions. Technology buyers, investors, and analysts use the site to compare and select the best software based on peer reviews and synthesized social data. Co-founded by the founder and former executives from SaaS leader BigMachines and backed by more than $4.5 million in capital, G2 Crowd aims to bring authenticity and transparency to business technology research. For more information, go to G2Crowd.com.