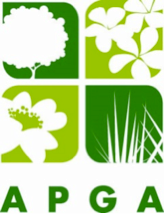 The APGA awards honor the professional horticulture industry's most influential and pioneering individuals and organizations.
Kennett Square, Pennsylvania (PRWEB) June 25, 2015
The American Public Gardens Association (APGA) this week announced the winners of its 2015 member awards. The award recipients were honored during the APGA's 39th Annual Conference held in Minneapolis/St. Paul, Minnesota.
Now in its 39th year, the APGA awards honor the professional horticulture industry's most influential and pioneering individuals and organizations.
"The APGA Awards recognize the outstanding work of our members and their commitment to enhancing the communities in which they serve. We are honored to work alongside the best and brightest in our industry and to celebrate their remarkable leadership and achievements through these awards," said Casey Sclar, Executive Director of the APGA.
2015 APGA award winners include:

Award for Program Excellence: Recognizes an APGA member garden that displays a truly innovative spirit in program excellence in conservation, development, botany, gardening, horticulture, research, extension, or administration.
o Winner (Small Garden): Water Conservation Garden (El Cajon, CA), "Ms. Smarty-Plants™" children's conservation character
o Winner (Large Garden): Chicago Botanic Garden (Glencoe, Ill), "Science Career Continuum (SCC)" program
Hansell Marketing Award: Pays tribute to Dorothy E. Hansell, a woman who championed excellence in horticultural and botanical journalism.
o Winner (Small Garden): Gardens on Spring Creek (Fort Collins, CO), "Plant it Forward - Fighting Hunger from the Ground Up" garden to food bank campaign
o Winner (Large Garden): Longwood Gardens (Kennett Square, PA), "Longwood Meadow Garden" marketing and communications campaign
Award of Merit: Recognizes an individual APGA member who has performed with distinction as part of an illustrious career in the field of public horticulture.
o Winner: Donald Rakow, Ph.D., Associate Professor, School of Integrative Plant Science, Section of Horticulture, Cornell University
Professional Citation Award: Recognizes individual achievements, skills, innovation and potential in botany, horticulture, conservation, research, education, or administration.
o Winner: Michael Dosmann, Ph.D., Curator of the Living Collections, Arnold Arboretum of Harvard University
o Winner: Sandy Tanck, Manager of Interpretation, Minnesota Landscape Arboretum (Chaska, MO)
Service Award: Given to a member who has gone above self and has had a history of outstanding service to the association.
o Winner: Barbara Faust, Associate Director, Smithsonian Gardens (Washington, DC), APGA member for 29 years
Honorary Life Member Award: Honors an individual who has supported the Association through active committee work, energetic membership, and leadership positions, and whose meritorious service has led to the advancement of the Association.
o Winner: Holly Shimizu, Executive Director (Ret.), United States Botanic Garden (Washington, DC)
Co-hosted by the University of Minnesota Landscape Arboretum and Como Park Zoo and Conservatory, the 2015 APGA annual conference included more than 800 professionals from public gardens across the United States and more than 15 countries worldwide.
The APGA award winners set a professional precedent for other individuals and organizations to follow. The nomination process begins in the fall and winners are announced during the annual APGA conference in June. An eight-member committee whose volunteers serve as leaders in the public garden community selected the finalists and winners.
About the APGA
Founded in 1940, the APGA has evolved to be the premiere association for public garden advocacy, education, innovation, and leadership in North America. With 75 years of commitment to increasing cooperation and awareness among gardens, APGA has built a membership of more than 575 institutions located in all 50 states, the District of Columbia, Canada, and 24 other countries. Its members include, but are not limited to, botanic gardens, arboreta, zoos, museums, colleges and universities, display gardens, and research facilities. The APGA is committed to increased awareness and advancement of public gardens as a force for positive change in communities through leadership, advocacy and innovation. Visit http://www.publicgardens.org for more information.
###
For more information:
Abigail Spencer
Director of Marketing & Outreach
American Public Gardens Association
aspencer(at)publicgardens(dot)org
610-708-3011