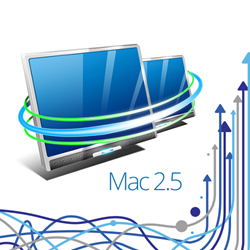 Many of the new features were suggested by our global community, who are the heart and soul of our company
Montreal, Quebec (PRWEB) June 27, 2015
Devolutions, a rapidly growing enterprise software firm whose suite of solutions are trusted by more than 200,000 users in over 100 countries, announced today that it has released http://mac.remotedesktopmanager.com/
Remote Desktop Manager for Mac empowers IT pros and IT teams of all sizes to centralize all of their remote connections, passwords and credentials in a unique, secure and easy-to-use platform. Key additions in version 2.5 include:

New Apple Remote Desktop (ARD) performance with the MVS Adaptive codec
New entry TODOs option
New Batch Edit functionality
New Refactoring functionality
New Splunk connection type
In total, Remote Desktop Manager for Mac 2.5 features nearly 30 additions and improvements, including multiple UI enhancements. A full change history is available at http://mac.remotedesktopmanager.com/Home/ChangeHistory.
"Version 2.5 continues our commitment to provide Mac users with a full-featured Remote Desktop Manager experience that is built on a native Mac platform, and supported by our iOS-specific software development teams" commented Devolutions' CEO founder and CEO David Hervieux. "Many of the new features were suggested by our global community, who are the heart and soul of our company. We aren't here to change the world. We're here to solve practical problems faced by IT pros and IT teams, so they can control IT chaos and increase efficiency, productivity, quality, and customer satisfaction."
Users who have an existing Remote Desktop Manager for Mac Enterprise license can upgrade immediately to RDM for Mac 2.5 by visiting http://mac.remotedesktopmanager.com/Home/Download.
Users who are new to Remote Desktop Manager for Mac can download a full-featured Enterprise version and try it for 30 days. After their trial period ends, they can choose to purchase an Enterprise license (valid for both RDM Mac and RDM Windows versions), or continue using Remote Desktop Manager Free for as long as they wish.
For more information or media inquiries, contact Maxime Trottier, Marketing Director, at (514) 360-3686 or mtrottier(at)devolutions(dot)net.
About Devolutions
Established in 2004, Devolutions is a Canadian-based company located near Montreal,
Quebec. The firm currently has over 200,000 users in over 100 countries, and is on a mission to develop innovative enterprise software that helps users cost-effectively, simply and effectively achieve their network management, password management, credentials management and security goals. The firm is also committed to providing exceptional technical support, ensuring an excellent user experience that exceeds expectations, and delivering high performance with superior quality. The firm's current roster of solutions includes Remote Desktop Manager, Password Vault Manager, Devolutions Server (formerly Remote Desktop Manager Server), and Devolutions Cloud (formerly Remote Desktop Manager Online).
Learn more at http://www.devolutions.net.