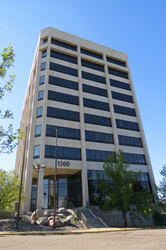 St Paul, MN (PRWEB) June 25, 2015
At Home Apartments has announced that its renovation of the former Blue Cross Blue Shield building, located at 1200 Yankee Doodle Road in Eagan, into 113 apartments is scheduled to open in August.
The new CityVue Apartments will be located at 3435 Promenade Avenue and contain 11 stories that overlook the Twin Cities. A new road is under construction and traffic lights will be added to the intersection of Yankee Doodle Road and Promenade Avenue.
"Housing demand within the Twin Cities core is growing as people increasingly put a premium on proximity to work, closeness to area attractions, and desire for the diversity of urban culture," said Mike Cashill, president of At Home Apartments. "Despite the obstacles of high land prices, suitable site availability, and rising construction costs, we feel strongly the demand for housing, and corresponding rent levels, more than justifies new housing alternatives within Minneapolis-St. Paul and first tier suburbs of the Twin Cities."
The CityVue project is a partnership between At Home Apartments and Interstate Partners. Black|Dew is providing General Contracting services. J.R. Ryan is constructing the parking ramp and commercial building. At Home Apartments will manage the building with a leasing office on site. The unique features of the building include a rooftop patio, lounge, and fitness room for residents' enjoyment. As an added amenity, the central heating and cooling costs will be included in the rent while offering each apartment home an individual thermostat. An additional benefit to this great location is the High Speed Fiber Optic that is currently running to the property. This unheard of value is also included in monthly rent, as is water, sewer, and trash services. The only utility residents will be responsible for is electricity. Residents also won't have to worry about finding a parking spot, as a two-story covered parking ramp is included with rent. These luxury apartments also contain granite countertops, stainless steel appliances, hard-surface flooring, a washer/dryer, and walk-in closets. Pets are welcomed.
At Home Apartments is currently in the process of leasing the 113 one- and two-bedroom apartments. Call 612-799-0278 to schedule a tour of the model or to further inquire regarding leasing information. More information is available at CityVueApartments.com
About At Home Apartments:
At Home Apartments manages properties with a focused passion. They combine high-character homes with today's amenities and quality on-site service to create a great resident experience. Currently, At Home Apartments owns and manages over 5,000 apartment and town home units located in the Twin Cities, St. Cloud, and Kansas City, Kansas.