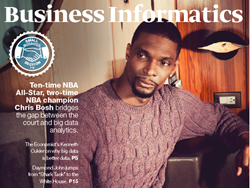 (PRWEB) June 26, 2015
The face of success has changed drastically over the past 10 years, due to constant advancements making the lives of entrepreneurs and small business owners more manageable.
The print component of "Small Business Technology" is distributed within today's edition of The San Francisco Chronicle, with a circulation of approximately 173,000 copies and an estimated readership of 500,000. The digital component is distributed nationally, through a vast social media strategy, and across a network of top news sites and partner outlets. To explore the digital version of the campaign, click here.
Daymond John, star of NBC's "Shark Tank," founder, president and CEO of FUBU, investor and author, shares his story of entrepreneurship and using technology to his advantage. Through an exclusive interview in the interior, he encourages readers to utilize technology, especially social media, when building a brand. He also speaks about his work with The White House and President Obama as he was recently named Entrepreneurship Ambassador. Alongside sisters and owners of Georgetown Cupcake, the TV star and baking extraordinaire Buddy "The Cake Boss" Valastro share how they bring technology into the bakery.
This campaign was made possible with the support of the Small Business Administration, Entrepreneurs Organization, International Franchise Association, Comcast, The Hartford, Charter Communications, Facebook and many more.
About Mediaplanet
Mediaplanet is the leading independent publisher of content-marketing campaigns covering a variety of topics and industries. We turn consumer interest into action by providing readers with motivational editorial, pairing it with relevant advertisers and distributing it within top newspapers and online platforms around the world.