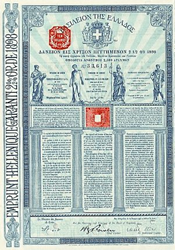 Our Greek bonds are worth the paper their printed on
(PRWEB) June 25, 2015
Scripophily.com is offering a beautifully engraved authentic historic bond certificate from the Kingdom of Greece issued in 1898 for L100. This cancelled debt instrument is a 2.5 Percent 20 year bond and is unusual because it has guarantees from France, Great Britain and Russia in the event of default. The certificate has an ornate blue border with vignette statues of Aphrodite, Apollo, Athena and Hypocrites. In addition there is the Greek Kingdom's Coat of Arms. This item also has a 10 shilling orange tax stamp dated 1899. This is a vertical format BOND and is over 117 years old. This historic bond is offered for sale on the Scripophily website..
The Greco-Turkish War of 1897, also called the Thirty Days' War and known in Greece as the Black '97 or the Unfortunate War, was a war fought between the Kingdom of Greece and Ottoman Empire. Its immediate cause was the question over the status of the Ottoman province of Crete, whose Greek majority long desired union with Greece. Despite a decisive Ottoman military victory, as a result of the intervention of the Great Powers after the war, an autonomous Cretan State under Ottoman suzerainty was established the following year, with Prince George of Greece as its first High Commissioner. This was the first war effort in which the military and political personnel of Greece were put to test after the Greek War of Independence in 1821.
Due to the computer age, more and more stock and bonds are issued electronically which means fewer paper certificates are being issued. As a result, demand for paper certificates is increasing while supply is decreasing.
Scripophily (scrip-ah-fil-ly) is the name of the hobby of collecting old stock and bond certificates. Certificate values range from a few dollars to more than $500,000 for the most unique and rare items. Tens of thousands of Scripophily buyers worldwide include casual collectors, corporate archives, business executives, museums and serious collectors.
Scripophily.com - The Gift of History is the internet's leading buyer and seller of collectible stock and bond certificates and have items on loan for display in the Smithsonian's Museum of Financial History in New York. Our company has been featured on CNBC, USA Today, Associated Press, Reuters, Nightline, Today Show, Baltimore Sun, and Washington Post and in many other media publications. The company also offers the World's #1 old stock research service at OldCompany.com and offers high resolution scans for publications. Scripophily.com has over 17,500 selections on its website.
Scripophily.com / Old Company Research Service, founding member of the Old Stock Exchange, is the successor company to all material published by the Marvyn Scudders Manuals, the Robert D. Fisher Manuals, R.M. Smythe Stock Research Service, and the Herzog & Co., Inc. obsolete research services. These services have been performed continuously for over 135 years since 1880. We are the leading provider of authentic stock certificates, autographs, and old company stock research services.
Scripophily.com and Old Company Research Services was founded by Bob Kerstein (Bob.com). Bob is a CPA and CGMA, and has more than 39 years of senior management experience in the Cellular, Cable TV, Satellite, Internet, Professional Sports and Entertainment Industries. Bob is also the President of the Professional Scripophily Traders Association (PSTA).
For more information on Scripophily.com®, visit http://www.scripophily.com, http://www.oldcompany.com, http://www.scripophily.net, http://www.oldstockexchange.com, http://www.bob.com or call 1-703-787-3552.