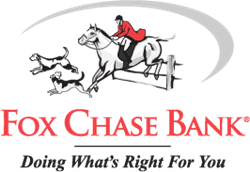 Hatboro, PA (PRWEB) June 26, 2015
Fox Chase Bank is pleased to announce that Jeff Southworth of Blue Bell, PA has joined the bank as a First Vice President, Relationship Manager. Jeff brings over 30 years of experience as a commercial lender and manager of diverse portfolios. He is a strategic leader with an entrepreneurial approach who has a proven ability to build and maintain relationships and leverage untapped potential to maximize opportunities for clients. Jeff has successfully managed a significant commercial portfolio and is known for ensuring client satisfaction.
After graduating from Grove City College with a degree in Business Administration and Economics, Jeff's experience has included leadership positions at Wilmington Trust/M&T Bank, Prime Bank/Summit Bank/Fleet Bank and Meridian Bank/Corestates Bank.
Active in the community, Jeff has served on the Boys Club Board, as an Account Executive for The United Way and coached teams for the Whitpain Recreation Association – which helps to instill the ideals of sportsmanship, teamwork and respect in local youth.
Fox Chase Bank is also pleased to welcome Brian Lawrence of Reading, PA – who has joined the bank as a Vice President, Relationship Manager. After graduating from Pennsylvania State University with a Bachelor of Science, Actuarial Science, Brian pursued a career in community banking and has over 13 years of banking experience. He is actively involved in many professional associations including the Robert Morris Association, Pennsylvania Bankers Association, Berks Real Estate Investor Association and the Greater Reading Young Professionals.
Brian also earned a Master of Business Administration degree in Corporate Finance from Alvernia University. He is known for developing relationships with clients by understanding their business needs, desires, abilities and earnings to determine a suitable loan program.
With a passion for serving the community, Brian currently holds the position of President and Chairman of the Board for Family Guidance Center – a non-profit organization providing mental health services within Berks County. He also serves as an Advisory Committee Member for the PBA Commercial School of Lending. Currently, Brian is an Adjunct Professor at Alvernia University.
"It's an honor to welcome Jeff and Brian to our commercial lending group," states Tom Petro, President & CEO. "They each have entrepreneurial approaches to helping companies achieve success and a passion for giving back to their communities."
About Fox Chase Bank
Fox Chase Bank serves growing middle market businesses, commercial real estate investors and depositors in the attractive markets that span Baltimore to New York City delivering on the promise of doing what's right for people. The Bank, established in 1867, is headquartered in Hatboro, Pennsylvania. It provides a comprehensive array of financial products and services through a comprehensive suite of cash management services and ten branch offices in Bucks, Montgomery, Chester and Philadelphia Counties in Pennsylvania and Atlantic and Cape May Counties in New Jersey.