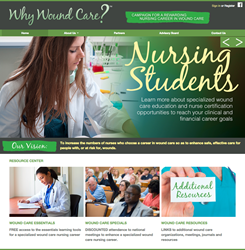 Nurses who specialize in wound prevention and care are in high demand across all patient care settings.
Malvern, PA (PRWEB) June 25, 2015
TWEET THIS: Why Wound Care?™ Launched to Educate #Student #Nurses About the Need & Opportunities of a #Wound Specialist Career http://www.whywoundcare.com
HMP Communications Holdings, LLC (HMP), a leader in healthcare communications and education, announced the launch of Why Wound Care?™ (WWC?™). This initiative is designed to provide complimentary and deeply discounted educational resources for students, and recently graduated nurses, who may not be aware of the need and opportunities in pursuing a wound care specialized nursing career.
Nurses who specialize in wound prevention and care are in high demand across all patient care settings. That demand is only going to grow with an aging population combined with an increase in the prevalence of persons with diabetes/obesity.
To help fight this growing epidemic, WWC?™ has been launched to serve as a trusted resource for new nurses seeking to enter the field. Complimentary registration will provide nurses free access to PDFs of all 25 chapters of Chronic Wound Care: The Essentials, an industry leading textbook, the Ostomy Wound Management (OWM) tablet edition of our wound care nursing journal and two Wound Assessment and Documentation On-Demand learning modules taught by Dot Weir, RN, CWON, CWS, the co-chairperson of the bi-annual Symposium on Advanced Wound Care (SAWC) Spring and Fall meetings, and much more.
WWC?™ will be championing students to choose wound care as a specialty nursing career by providing the tools they need to be successful. In addition, the website will eventually include 12 complimentary slideshow wound care teaching modules being developed by our esteemed WWC?™ advisory board for nursing school faculty to utilize in course curricula.
"HMP Holdings (HMP) is proud to own the largest wound care franchise in the United States. Each year, over 60,000 wound care specialists participate in our educational offerings," states Jeff Hennessy, Chairman and Chief Executive Officer, HMP Communications Holdings, LLC. "While that number is impressive, there are around 6.5 million Americans with chronic wounds and an estimated 2% of the population with a chronic wound secondary to pressure, venous or arterial disease, or as a complication of diabetes mellitus. Because these numbers are on the rise due to an aging population and increases in the prevalence of diabetes and obesity, so is the demand for nurses specializing in wound care. As the industry leader, we felt a responsibility to not only champion more nurses to become clinically certified in wound care, but through our Why Wound Care?™ initiative, to provide nursing students and recent graduates with world-class educational resources on a complimentary or deeply discounted basis to help them successfully combat this growing epidemic."
OPPORTUNITIES FOR WOUND SPECIALTY NURSES
According to the Wound, Ostomy and Continence Nursing (WOCN) Society's 2008 WOC Nursing Salary and Productivity Survey, the mean annual salary for a Certified WOC nurse with a master's degree was $83,000, with the top 25% earning $91,500; for a CWOCN with a doctorate degree during the same time was $90,000, with the top 25% earning $91,500 (vs. the median income for registered nurses of $64,690, according to the US Bureau of Labor Statistics).
This new initiative is added to HMP's growing family of innovative, evidence-based publications and CNE activities across therapeutic fields such as vascular disease management, cardiology, podiatry and wound care. For nurses considering a career in wound care or for more information about Why Wound Care™, visit http://www.whywoundcare.com.
ABOUT HMP COMMUNICATIONS HOLDINGS, LLC
HMP Communications Holdings, LLC (HMP), a collaborative formed by HMP Communications, LLC and North American Center for Continuing Medical Education, LLC (NACCME), is a leader and innovator in healthcare communications. The company produces some of the industry's most well respected journals, multimedia, live events and accredited continuing education (CE) programs. HMP distributes award-winning content across a wide spectrum of healthcare audiences who can access its brands anywhere, everywhere, at any time. For more information, visit http://www.hmpholdings.com.
# # #