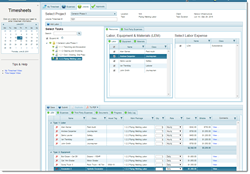 4castplus Streamlines and simplifies the flow of data from field to office and beyond
Calgary, Alberta (PRWEB) June 30, 2015
Jetsoft Group, makers of 4castplus, announced today that they have released the new 4castplus Daily Jobsite LEM Tracking component for field data capture. This module is deeply integrated with the full suite of 4castplus project controls, procurement, billing and project management components to deliver an end-to-end solution for project and construction management.
Built for construction managers and field personnel, the interface has been designed to be easy, quick and intuitive. The design team worked closely with numerous contractors and owners to ensure flexibility, usability and complete data and cost capture from the jobsite.
"Getting accurate, live information from the field is a big challenge for most contractor or owner organizations," says Mike Wilson, Senior Product Manager with 4castplus, "they struggle with paper, spreadsheets and a lot of manual, duplicate steps. 4castplus now streamlines and simplifies that whole flow of data from field to office and beyond."
The 4castplus solution covers much more than just labor, equipment and materials tracking – the system is built to capture a full breadth of Daily Field Data, for example:

All labor hours
Labor Expenses like LOA, Fuel, Hotel, etc.
Equipment hours & Materials consumed
3rd party Vendor Charges
Field Receiving for shipments arriving at site based on a purchase order
Field documents – multiple documents, reports, photos, maps, etc. can be uploaded and attached
Daily log for capturing notes, observations, diary, etc. of the day's events and activities
Daily progress
4castplus bundles all the costs & activities entered for the day into an organized "package". From that, a formatted summary report can be generated in a single click; which field personnel can print and get sign-off from the client. They can then scan & upload the signed report as an invoicing artifact to add to the package. These daily LEM packages can then be submitted and routed for approval and invoicing.
Simplifying the whole process like this eliminates paper, spreadsheets and any duplicate entry or lost information. Everything is entered just once - it's contained, organized and streamlined for accuracy and immediate availability back in the office; where project controls, procurement, finance and project management teams are immediately updated with the latest information.
Electronic field data capture can save organizations significant time, money and errors. Nevertheless, it's not without its challenges. "The 4castplus team recognized that most organizations have a unique way of capturing daily field data," asserts Wilson, "so they had to make it very flexible. The team is very familiar with the fact that the jobsite can be a complicated place with a lot of variables, moving parts and colorful personalities! It was also designed it so that companies could transition gradually to electronic LEM tracking. This enables organizations to ease-in the change without too much disruption all at once."
For a tour of the full range of 4castplus features, visit http://www.4castplus.com.