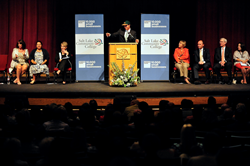 We are proud to honor 93 business owners whose lives and companies have been transformed because of their investment in themselves, their businesses, and in the local economy.
Salt Lake City, Utah (PRWEB) June 25, 2015
Today, more than 90 entrepreneurs representing three cohorts of participants will graduate at Salt Lake Community College from the Goldman Sachs 10,000 Small Businesses program and will bring the total number of graduates to 215 since the program began in January of 2013
The graduation ceremony will take place today, 5 p.m. -7:45 p.m., at the SLCC Miller Campus, 9690 South 300 West, Sandy, in the Miller Free Enterprise Center Auditorium.
Over the past year, 93 business owners who took part in the program represented industries that include construction, manufacturing, retail and transportation. Together, these businesses employ 1,611 people and represent over $145 million in revenues. Participants received practical business and management education, business support services, and access to capital to help their businesses grow. A new report recently released by Babson College shows that 10,000 Small Businesses program graduates report revenue growth and job creation at a higher rate than small businesses nationally. Almost 100 percent of the scholars graduate, with 84 percent who report doing business with each other after graduation. In addition, 76 percent report increased revenues by 18 months after graduating and 57 percent report the creation of new jobs 18 months after graduating.
"Each graduate of the Salt Lake program deserves recognition for a substantial time commitment dedicated to completing a rigorous training program that has repeatedly proven to help grow businesses," said Karen Gunn, executive director of the Goldman Sachs 10,000 Small Businesses program at SLCC. "We are proud to honor 93 business owners whose lives and companies have been transformed because of their investment in themselves, their businesses, and in the local economy."
Nationally, the 10,000 Small Businesses program started in 2009 and, with more than 125 partners and affiliate organizations, has helped nearly 5,000 small business owners through 23 sites and a national blended learning program. A $500 million investment by Goldman Sachs and the Goldman Sachs Foundation supports the project in partnership with Babson College and the Initiative for A Competitive Inner City. Local partners in Utah include the State of Utah Governor's Office of Economic Development, SLCC, Mountain West Small Business Finance, and the Salt Lake and Utah State Hispanic Chambers of Commerce.
Prospective applicants to the program are required to have between $150,000 and $4 million in revenues, have been in business for at least two years, and have at least four full-time employees.
For more information about the 10,000 Small Businesses program at SLCC, visit http://www.slcc10ksb.com.
Salt Lake Community College is an accredited, student-focused, urban college meeting the diverse needs of the Salt Lake community. Home to more than 60,000 students each year, the College is Utah's leading provider of workforce development programs. SLCC is also the largest supplier of transfer students to Utah's four-year institutions and a perennial Top 10 college nationally for total associate degrees awarded. The College is the sole provider of applied technology courses in the Salt Lake area, with multiple locations, an eCampus, and nearly 1,000 continuing education sites located throughout the Salt Lake Valley. Personal attention from an excellent faculty is paramount at the College, which maintains an average class size of 20.
Goldman Sachs 10,000 Small Businesses is a $500 million program to unlock the growth and job-creation potential of 10,000 small businesses across the United States through greater access to business education, financial capital and business support services. The program is active in urban and rural communities across the United States. Sites include Chicago, Cleveland, Dallas, Detroit, Houston, Long Beach, Los Angeles, Miami, New Orleans, New York, Philadelphia and Salt Lake City, as well as a National Cohort at Babson College. Access to capital is also available in parts of eight states: Georgia, Kentucky, Maine, Minnesota, Montana, Oregon, Virginia and Washington. Across the United States, initial results of the education program have shown that 18 months after graduation, 76% of participants reported an increase in their revenues and 57% reported creating net new jobs. In addition, the program has a 99% graduation rate and 84% of graduates are doing some form of business with each other.