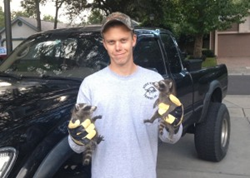 As an advocate for Florida's wildlife, I want to ensure that the animals are humanely trapped and removed. However, I am also extremely passionate about educating my clients on ways to prevent disaster and injury.
Orlando, Florida (PRWEB) June 25, 2015
As a boy, Orlando animal trapper, Alden Weed was fascinated with Florida wildlife and continually sought out to learn about different species and behaviors. As an adult, Alden continued on to build a premier Orlando Florida wildlife removal service company that has helped thousands of residents by safely and humanely trapping and removing critters from homes and businesses. Throughout Alden's career, the focus of Animal Wildlife Trappers has been to keep harmony between Florida's residents and wildlife through safe, humane services, but also education and awareness. To help residents avoid damage, and most importantly, personal injury, Alden shares four tips for keeping critters at bay, particularly out of the attic, one of the most common hiding spots for uninvited wild animals.
1. Understand how critters enter the attic. While Alden stresses that every species brings unique challenges based on size and abilities to break down barriers, there are ways to prevent overall entry into the attic space. Any openings, no matter how small, offer a direct invitation for entry. The Orlando animal trapper advises that residents identify holes, damaged vents, wood deterioration, gaps in siding, and inconsistencies in the foundation of the home. Once these areas are identified, repairs can be made, vents can be covered with mesh, and patches can be installed to keep critters out.
2. Keep the perimeter of the yard clean and free of platforms for easy entry. Alden offers the following advice: Clear overhanging trees and shrubbery. Gutter cleaning, trimming limbs, and clearing garbage will help to detract animals from nesting in the attic. Pests including rodents, bats, raccoons, possums, and more use greenery as camouflage for long-term access to the attic as well as a means to easily enter the home.
3. Install an animal-proof chimney trap. Animals including swifts and rodents often make it into the home and attic by way of the chimney. Installing a chimney cap can be a simple, yet extremely effective way to prevent animals from getting in the home, but also help prevent trapping wildlife inside.
4. Call a professional. While much of the time there are simple fixes for keeping wildlife at bay, the problem can quickly become exacerbated if animals nest and breed. Once the animals leave droppings, spray, chew electrical wires, or gnaw through structures, the attic and the rest of the home are at extreme risk for rapid deterioration and should be dealt with by a professional who can clean and repair damage appropriately. Alden advises getting in front of the issue by calling a professional to help either prevent entry altogether or identify the breed of species making the mess. Wildlife trapping experts have the tools and equipment to safely remove the animals.
Importantly, Orlando Attic Animal Trapper Alden Weed maintains that trapping and removal should be performed with safety as the top priority. Alden comments, "As an advocate for Florida's wildlife, I want to ensure that the animals are humanely trapped and removed. However, I am also extremely passionate about educating my clients on ways to prevent disaster and injury."
For more information on how to properly prevent animals from entering the attic space or home, contact Animal Wildlife Trappers at (352) 267-0546 or visit http://www.animaltrappersinorlando.com.
More on Animal Wildlife Trappers in Orlando, Florida
Located in Winter Garden, Florida, Animal Wildlife Trappers employs humane and efficient tactics for trapping wildlife throughout Orlando and Winter Garden, Florida on behalf of home and business owners. Animal Wildlife Trappers provides Orlando Florida Critter Control Services including rodent trapping and removal, bat and bird trapping and removal, stray dog and cat trapping and removal, opossum and raccoon trapping and removal, along with other wildlife trapping and removal services. Animal Trappers also provides professional cleanup and repair after an animal has entered a home or yard.
This press release was crafted and distributed by Green eSolutions. Green eSolutions is an internet marketing team of professionals with a passion for technology, design, brand awareness, and innovative strategies for reaching audiences throughout the country.