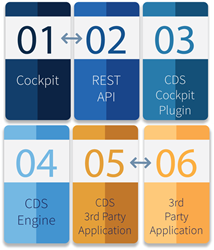 Cockpit already provides a unified model for product development, these new connection options only expand on the amount of unification possible.
(PRWEB) July 07, 2015
Cognition Corporation recently released Cockpit V7.4, the latest version of its product development platform. With this release came the introduction of a new REST API and Data Synchronization utility, called Cockpit Data Synchronization (CDS). Both new features allow for bi-directional data transfer between Cockpit and external programs.
The new REST API allows for both Cognition and external customers to easily retrieve and modify Cockpit data programmatically. It utilizes the four basic HTTP Request types to provide a comprehensive interface to interact with Cockpit. Cognition provides full documentation for a do-it-yourself approach.
The new CDS utility uses the REST API and consists of an executive engine and one or more plug-ins. Cognition Cockpit and each third-party application with which data can be exchanged require a custom plug-in for communication with that application. The engine, in combination with plug-ins, provides general purpose services to send and retrieve data between Cockpit and other applications. A directives file is used to drive the utility to perform specific synchronization tasks. The plug-in architecture allows third parties (as well as Cognition) to create and use new plug-ins without having to modify, rebuild, or reinstall the engine.
The CDS engine is responsible for high-level processing of the directives file, including determining which plug-ins are to be used. The engine's main role is to provide coordination of data transfer between Cockpit and the third-party application via plugins. The engine handles general initialization, performs error handling and logging, and provides notification services.
Cognition currently offers a CDS utility plugin for HP Quality Center® and Cockpit, but the possibilities are endless. "We find that no product out there covers everything needed for product development within the medical device and pharmaceutical communities. With the new REST API and CDS we are opening the door to numerous collaborative opportunities. Connect your risks and requirements in Cockpit to your external testing system or to your bug tracking system; whatever you want," said David Cronin, CEO of Cognition Corporation.
Learn more about Cockpit by attending one of our weekly webinars, click here to register. Contact sales(at)cognition.us to inquire about the available CDS utilities or to learn more about Cognition and its offerings to the Medical Device community.
Cognition Corporation, based in Bedford, Massachusetts, has been offering solutions for product and process development for more than ten years. Cognition offers two core products: Cognition Cockpit™ and Enterprise Cost Management™ (ECM). Thousands of users worldwide use Cockpit and ECM to manage their product development and to meet performance, cost, risk, and schedule targets. For more information, visit http://www.cognition.us or call +1 (781) 271-9300.
###