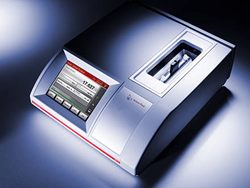 Ashland, Virginia (PRWEB) June 29, 2015
Anton Paar's newest offering, the MCP 150 is the right choice, especially for pharmaceutical applications, universities or the flavor and fragrance industry. The easy-to-use touchscreen supports fast navigation with unparalleled simplicity, and multiple measurement capabilities and customized methods make both routine and unique measurements better than ever.
To top it all off, this model is now equipped with an enhanced accuracy (0.005 °OR), for extremely high precision measurement. The powerful Peltier temperature control guarantees fast and even temperature distribution within the range of 15 °C to 35 °C. With the intelligent Toolmaster technology, information on all relevant parameters is wirelessly transferred to the instrument. This eliminates user errors and ensures that every change is recorded in the audit trail. LIMS and FTP connectivity are fully supported.
For more information on MCP 150 and other Anton Paar solutions, visit http://www.anton-paar.com.