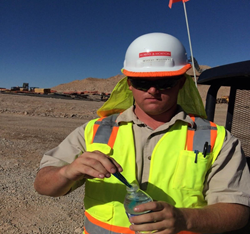 BIRMINGHAM, Ala. (PRWEB) June 27, 2015
Although this week is summer's official beginning, Robins & Morton has been prepping many of its teams since April to handle the conditions of summer heat.
During the summer months, Robins & Morton holds a campaign on all project sites to create awareness and plans for heat illness prevention, releasing it in three phases.
Phase one, which includes educating employees on heat illness prevention, starts before the warm weather begins and highlights the technical aspects of our heat illness prevention process. The second phase involves the distribution of heat postings, dehydration charts and cooling product catalogues for each project to choose their site specific heat illness prevention materials like electrolyte drinks and misting tents. During this phase, project sites are also asked to collaboratively develop a site-specific heat illness prevention plan, track the heat index and discuss heat illness prevention during each pre-task planning meeting. In phase three, project sites discuss "hot spots," or specific elements of heat illness prevention to re-emphasize the training from both phase one and phase two, including the 5R's (review, replenish, rest, report, react) that Robins & Morton uses to prepare employees for heat as well as educating them on the symptoms of heat illness. Hot spots are reviewed during both safety and pre-task planning meetings.
Each of these phases, in addition to pre-planning and preparation, are integral to successfully addressing heat illness prevention, Robins & Morton's Corporate Safety Director Jeff Palombo said.
"We have a graduated and consistent approach to heat illness prevention," Palombo said. "We go to these lengths to protect our employees not for compliance, but for respect for our employees, their families and the desire to ensure that all who set foot on our jobsites go home to their families every day in the same condition or even better then when they arrived."
This special emphasis will continue until September on most project sites, or longer as required by location and climate.
###
About Robins & Morton
Founded in 1946, Robins & Morton is a privately held engineering and construction firm that consistently ranks among the 100 largest U.S. contractors in Engineering News-Record Magazine. The company has also been named one of the best mid-sized companies to work for in America because of its worker-friendly and family-friendly practices. Robins & Morton is based in Birmingham, Ala., with offices in Dallas, Texas; Huntsville, Ala.; Miami, Fla.; Orlando, Fla.; Nashville, Tenn.; Charlotte and Raleigh-Durham, N.C. For more information, visit http://www.robinsmorton.com.