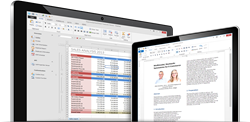 Being able to develop fast business applications has always been the main focus of the VCL developer community
Glendale, CA (PRWEB) June 25, 2015
DevExpress is proud to announce the immediate availability of its newest release for Delphi and C++Builder: VCL v15.1.
DevExpress continues its commitment to the Delphi and C++Builder developer community by extending its product line with powerful new features designed to help VCL developers build next-generation user experiences on the Windows platform. The new version ships with numerous user experience and performance improvements so you can effortlessly deliver better and faster UIs for your next desktop app.
"Being able to develop fast business applications has always been the main focus of the VCL developer community," said Julian Bucknall, Chief Technology Officer at DevExpress. "This is where DevExpress has traditionally delivered the most powerful and comprehensive UI Control library, and keeps doing so in 2015 by adding new Office-inspired controls, extending the theme set to match today's popular applications, and not forgetting improvements to the overall usability and performance of the suite."
DevExpress VCL Subscription v15.1 ships with the following new controls and features:
Word® Inspired Rich Text Editor Control - release version with new features
New Rating Editor Control
Updated data export engine based on the new ExpressSpreadsheet Control's functionality
New Office 2016 styles for the Ribbon Control
Unified drag-and-drop indicator and alignment customization toolbar for the Layout Control
New gauge styles and enhancements to existing gauge controls
Data grouping, built-in Find and Replace dialog and new export options in the Spreadsheet control
Scrolling experience improvements in the VCL Map Control
Better performance in the PivotGrid control
Three new Visual Studio inspired skins (visual styles)
Updated Icon Library
And much more.
For more information, refer to What's New in VCL v15.1 on the DevExpress website:
https://www.devexpress.com/Subscriptions/New-2015-1.xml?product=vcl
Download a Free 30 Day Trial
DevExpress VCL 15.1 is available today. To download a free 30 day trial, visit: https://www.devexpress.com/Products/VCL/
About DevExpress
DevExpress offers feature-complete UI controls for Delphi and C++Builder, allowing VCL developers to build their best and create stunning applications for Windows - without limits or compromise. With DevExpress tools, VCL developers can create business solutions customers expect today and leverage existing skillsets to build next-generation applications for tomorrow. 
Join the conversation: visit us online at DevExpress.com or follow us on Facebook, Twitter and Google+.