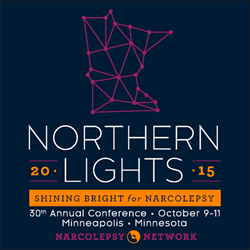 For many attendees, the conference is the first time they have ever met someone else who shares their diagnosis.
(PRWEB) June 29, 2015
Narcolepsy Network's annual conference brings people with narcolepsy (PWNs) and their supporters together to hear from some of the world's leading narcolepsy specialists and to share experiences with one another. The Hyatt Regency Minneapolis will host the 2015 conference, October 9-11.
For those who attend, one of the most anticipated parts of the weekend is the time spent with other people with narcolepsy. For many attendees, the conference is the first time they have ever met someone else who shares their diagnosis. It is an educational and emotional experience that many previous attendees have said is a life-changing event. More than 450 people attended the 2014 conference in Denver.
The conference features workshops and presentations on a range of subjects. Attendees learn about treatments, get support from other PWNs and hear the latest research developments. The keynote speaker is Emmanuel Mignot, MD, PhD, professor of psychiatry and behavioral sciences at Stanford University and director of the Stanford Center for Sleep Sciences and Medicine.
Other confirmed speakers include narcolepsy specialists Drs. Lois Krahn (Mayo Clinic), Chad Ruoff (Stanford Univeristy), and Todd Swick (Houston Sleep & Neurology Associates); researchers Dr. Florian Merkle (Harvard University) and Mali Einen (Stanford University); and sleep and dreaming expert Dr. Rubin Naiman (University of Arizona Center for Integrative Medicine). Many more speakers will be added. The conference will also offer sessions especially for children and young adults with narcolepsy.
Advanced registration is required and includes access to all sessions and speakers, a welcome reception, breakfast and lunch on Saturday and Sunday, and entertainment on Saturday night. Early registration rates are $200 for Narcolepsy Network adult members and $150 for student members until August 31. Starting September 1, registration will be $225 for adult members and $175 for student members. The non-member registration rate is $375. Registration will close October 2. Late registration may be available, space permitting. More information and registration is available at http://www.narcolepsynetwork.org.
This year's conference is sponsored by Jazz Pharmaceuticals and Flamel Technologies.
Narcolepsy is a medical disorder that impacts one in approximately 2,000 people in the United States. Many people are unaware of the condition and go undiagnosed. The disease is a sleep disorder, involving irregular patterns in Rapid Eye Movement (REM) sleep and significant disruptions of the normal sleep/wake cycle. While the cause of narcolepsy is not completely understood, current research points to a combination of genetic and environmental factors that influence the immune system.
Narcolepsy Network® is a national nonprofit organization dedicated to increasing early diagnosis of narcolepsy, advocating for and supporting persons with narcolepsy and their families, and promoting critical research for treatment and a cure. More information about narcolepsy and Narcolepsy Network is available at http://www.narcolepsynetwork.org.