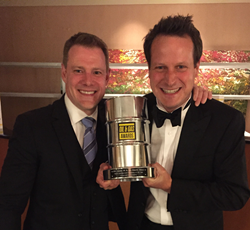 Significant successful projects across Canada deserve recognition.
Calgary, AB (PRWEB) June 27, 2015
The Water Management Company of the Year Award recognizes suppliers of services, materials and equipment to the oil and gas industry. Companies who have demonstrated reliability, gone the extra mile to provide the oil and gas sector with impressive customer service, technical proficiency and can show details of their corporate social responsibility initiatives are rewarded. Integrated Sustainability received highest marks in the category with such remarks from the judges as:
"Comprehensive and detailed submission that excellently underpins the contributions of the company to the industry, their clients, and overall, water management best practices."
Rebecca Wood, Director of Member Services of the Calgary Chamber of Commerce and a presenter at awards added: "It was an honour last night to be part of the inaugural Canada Oil & Gas Awards. Stuart Torr, and the team are previous winners of the Calgary Chamber of Commerce Small Business of the Year Award, and so I was ecstatic that they have now also been recognized nationally as a leader in their field."
Integrated Sustainability President Stuart Torr was humbled by the recognition, noting: "Our clients believe strongly in the idea that water security is business security. Our business has brought together a dynamic and integrated team of professionals and specialists in order to answer the tough questions that challenge water management.
We are proud to be here tonight being recognized for our role in the responsible management of this precious resource."
Integrated Sustainability would like to congratulate all of the other nominees and award winners. We would also like to thank our clients for your continued support and collaboration, as well as the judges and the Oil and Gas Awards committee for hosting and selecting us for this prestigious award.
About the Oil and Gas Awards
The Oil & Gas Awards recognize the outstanding achievements made within the upstream and midstream sectors of the North American oil and gas industry. The Awards are a platform for the industry to demonstrate and celebrate the advances made in the key areas of environment, efficiency, innovation, corporate social responsibility and health and safety. The Awards show the industry's motivation to develop by recognizing and rewarding the efforts of corporations and individuals. For more information about the Oil & Gas Awards visit the website at http://www.oilandgasawards.com
Integrated Sustainability is an innovative provider of professional services that integrates world-class front-end project consulting and delivery teams to execute full-cycle sustainable Water, Waste and Energy solutions.