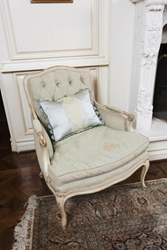 These items are truly a piece of rock and roll history and a must for any Michael Jackson fan.
NASHVILLE, Tennessee (PRWEB) June 25, 2015
Michael Jackson fans and music memorabilia collectors have until July 1st to purchase the makeup-stained bedroom chair as well as a parquetry side table from the rented mansion where pop star Michael Jackson tragically died on June 25, 2009. Both items are currently available on popular auction site EBAY. Brian Mayes, a Jackson fan and Nashville-based entertainment publicist, is offering the items originally acquired through Julien's Auctions.
The chair was made infamous by crime scene photos shown in the trial of Michael Jackson's doctor, Conrad Murray. The chair was also featured in the premiere episode of CMT's 2014 reality series, RAIDERS OF ROCK.
The Henredon style bergere chair with button-tufted upholstery was located next to Jackson's bed in the master bedroom of the rented Holmby Hills mansion where he died. Particularly notable are the makeup stains on the chair, where Jackson is said to have sat each day while getting ready. The Rococo style side table was also a fixture in Jackson's final home.
"These items are truly a piece of rock and roll history and a must for any Michael Jackson fan," says Mayes, whose memorabilia collection also includes items that once belonged to Elvis Presley, Johnny Cash and others. "Tragically, the makeup-stained chair is the lone witness to Jackson's death. If only we could get the chair to tell the secrets of what really happened in those final hours."
The chair and side table are available via EBAY unit July 1, 2015:
http://tinyurl.com/MJtable
http://tinyurl.com/MJbedroomchair