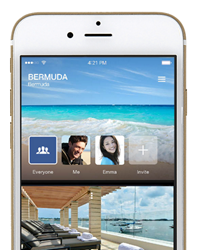 "Beach is just getting started... We want to create a perfect flow of curation and discovery." - Ed Carpenter, Founder
London (PRWEB UK) 29 June 2015
Eighty percent of travelers plan their trip two or more months ahead of time and the average traveler visits 22 travel websites before booking their trip. Beach distills this process and makes it easy to search, save and share ideas without the fuss and fallouts.
Beach combines the simplicity of discovery and organisation platforms like Pinterest and Evernote but is 100 percent travel focused, collecting the user's travel discoveries from across the internet and storing them in one convenient location.
The app keeps track of news, hotels, flights and everything else to make travel planning smooth sailing. Beach is also social, meaning the user can connect with other friends who have the app, share ideas and post comments so everyone going on the trip has full visibility of the planning process.
What sets Beach apart from the competition is its 14,000 pre-made destination tags and channels designed to organise findings and speed up the search process – open up the Paris space and out pops search commands such as "Paris hotel" and "Paris things to do".
With the iOS share sheet extension and Chrome desktop extension, travel planning can also be done outside of the app. Whether clipping websites at work or exploring apps from across the world, the user can bookmark their discoveries using the Beach button to automatically update Beach.
Beach's founder, Ed Carpenter, explains this first release: "Beach is just getting started. This first release is all about early research, helping people plan travel before they have even decided where to go. We want to create a perfect flow of curation and discovery. You might save something to Saint Tropez, but then actually if you are looking at Côte d'Azur, how about Cannes, Antibes or even a day trip to Monaco?"
Want to test Beach app before its official release on July 6? Sign up now at beachapp.com.
For more information on Beach, please visit http://www.beachapp.com, find us on Facebook at http://www.facebook.com/beachapp or follow us on Twitter at http://www.twitter.com/beachapp.