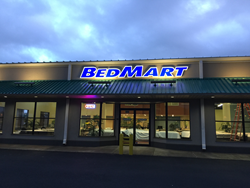 As a family owned company, our top priority is helping other families to have a safe and comfortable place to sleep
Maui, Hawaii (PRWEB) June 26, 2015
BedMart Mattress Superstores, Hawaii's new family owned specialty mattress retailer, announced today that it will be donating 50 Tempur-Pedic mattresses to Maui Family Support Services on June 30th.
BedMart has partnered with Tempur-Pedic and Aloha Marine Lines to provide these mattresses valued at approximately $85,000 to Maui Family Support Services, an organization that promotes healthy family functioning to prevent child abuse and neglect. "Maui Family Support Services is excited to partner with BedMart in meeting the needs of the families we serve. Many families cannot afford new beds, and children often sleep on worn out second hand beds, futons, or on the floor. This donation helps to alleviate some of the needs and stressors that that many families face," says Daphne Ladia, Director of Operations for Maui Family Support Services.
This event marks BedMart's grand opening on Maui, which opened its doors in March, and reflects BedMart's commitment to the communities it serves. "The entire BedMart family is excited to be a part of the Maui Community," says Elana Stone, Vice President of Marketing and Spokeswoman for BedMart Mattress Superstores. "As a family owned company, our top priority is helping other families to have a safe and comfortable place to sleep."
BedMart's Community Giving Event will be held on June 30, 2015 from 5:30pm to 6:30pm at their new retail location on 444 Hana Highway, Kahului, HI 96732.
About BedMart Mattress Superstores
BedMart is a family owned and locally operated business serving Oregon, Washington, and Hawaii. Since 1992, we have offered our customers the best selection of mattresses at the best price. We offer an extensive line of products including innerspring, memory foam, latex, allergy friendly, and natural mattresses as well as bed protectors, pillows, and other accessories. Our local sleep experts are professionally trained and ready to assist you in finding the right mattress for your body. Please visit http://www.bedmarthi.com.
About Maui Family Support Services
MFSS is a private, non-profit agency incorporated in 1980 to provide early childhood development services to families on Maui. The agency has provided 34 years of continuous service to residents of Maui County. Our mission is: "to promote healthy family functioning by providing supportive services that build on family strengths utilizing our collective resources toward the prevention of child abuse and neglect." The agency serves the islands of Maui, Lana`i and Moloka`i. Please visit http://www.mfss.org.