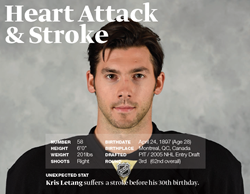 (PRWEB) June 29, 2015
Mediaplanet has released the first edition of "Heart Attack and Stoke Awareness" within the weekend edition of USA TODAY. This 12-page, glossy, full-color special section hit newsstands Friday, June 26th, and was distributed within the centerfold of USA Today in highly targeted markets totaling approximately 450,000 copies, with an estimated readership of 1.3 million. The digital component is being distributed nationally, through a vast social media strategy, and across a network of top news sites and partner outlets. To explore the content of the campaign online, click here.
The insert was supported by an original Mediaplanet digital campaign reaching a specialized, worldwide audience, and is being promoted on a number of industry blogs, social media sites and through partners such as Medtronic, Grady Health, Baptist Health, MedStar Health, The American Society of Echocardiography, Measure Up/Pressure Down, GUARDaHEART, Mended Hearts and The Heart Rhythm Society.
Heart Attack and Stroke Awareness will serve as a guide to educate and inspire readers to learn more about how they can keep themselves and their loved ones safe. The campaign contains a variety of articles, ranging from inspirational patient stories to tips to help you reduce your risk.
Some of the editorial focus points include:

Eric Jordan: How an opera singer's craft helped him regain the ability to speak post-stroke.
Panel of Experts: Learn what the experts have to say about exciting innovations that are occurring for heart attack and stroke patients.
3 Things You Should Know About Stroke: There are over 20 factors that put you at risk for a stroke. Learn what to look for to eliminate your preventable risk factors today.