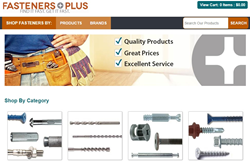 "The new site is about providing the best experience possible."
Urbana, Iowa (PRWEB) June 25, 2015
FastenersPlus.com rolled out a new website this week, creating a more streamlined shopping experience for customers looking for quality fasteners.
The new website features improved navigation, systematic organization and is accessible on any device including smartphones and tablets.
FastenersPlus.com partners with some of the leading manufacturers of fasteners like Simpson Strong-Tie and Hafele. The newly revamped site has allowed the company to narrow the focus of its product lines to better serve the construction and furniture industries along with do-it-yourself consumers.
"The new site is about providing the best experience possible," FastenersPlus.com Product Manager Tammy Karr said. "That includes narrowing our focus and better serving customers in those segments."
With the changes and improvements, the online retailer's goal remains the same; provide quality products and excellent service.
"The new site will increase our efficiency and allow our product specialists to offer more focused service," Karr said. "We will have more time to communicate directly with our customers, whether over the phone or through email."
FastenersPlus.com carries thousands of products and expands its offerings regularly. Customer service representatives will take requests for specific products not currently carried. Discounts are also available for bulk or large quantity orders. All products can be purchased by visiting FastenersPlus.com or by calling toll free at 888-794-1590.
"Our improved website makes shopping extremely easy," Karr said. "That being said, we are happy to answer any questions or take orders over the phone. It's really about what's most comfortable and convenient for the customer."
###
About Fasteners Plus
Fasteners Plus is an online specialty retailer offering a wide assortment of fasteners to contractors, business owners, and consumers. Combining high quality brand name hardware, tiered bulk pricing, and exceptional customer service, the company aims to offer customers a hassle-free shopping experience. Fasteners Plus is owned by Clickstop, Inc., an online retailer of niche brands in several different categories. Websites under the Clickstop company umbrella also include USCargoControl.com and EcoFoil.com. For more information, visit http://www.FastenersPlus.com.