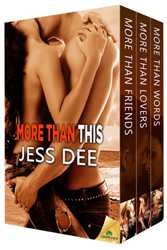 "We're excited to feature Jess Dee's work in a digital boxed set that introduces her to new readers who love intense, emotional romance" - Christina Brashear, president of Samhain Publishing
Cincinnati, OH (PRWEB) June 26, 2015
International publisher Samhain Publishing® today announced the upcoming release of a three-book boxed set by contemporary romance author Jess Dee. "More Than This" bundles Dee's titles More Than Friends, More Than Lovers and More Than Words.
"We're excited to feature Jess Dee's work in a digital boxed set that introduces her to new readers who love intense, emotional romance," says Christina Brashear, president of Samhain Publishing. "It's also a great way for fans to have all of these books in one continuous package."
"Three of a Kind" is available for pre-order now, with an on-sale date of July 7. The set includes:
More Than Friends
Lucy Lawson is stunned speechless to realize she's in love with her best friend. Except Sebastian Blackford is seeing another woman. Revealing her feelings could destroy the best relationship in her life. Problem is, the longer she holds it in, the stronger her need to spill her secret.
More Than Lovers
Hot, no-strings sex with the gorgeous surfer next door any time she's single and in the mood? Oh, yeah, Sarah Deacon is all signed up for that course.
Charlie Hudson knows he's all wrong for Sarah. What could a long-haired dropout have in common with a classy academic? Nothing...except maybe a mutual burning desire that just won't quit no matter how often they try to quench it.
More Than Words
Molly Harris never intended to send that letter, meant to be a secret record of her feelings for her boss. But during a crazy day at work, she accidentally hits "send". Which is how Dr. Sam Shepard finds himself reading a wicked, erotic email neatly outlining his receptionist's secret fantasies—about him.
To learn more about the "More Than This" digital box set, visit Jess Dee's Samhain book page. To receive other great deals on outstanding fiction direct from Samhain Publishing, visit the publisher online at http://www.samhainpublishing.com.
About Samhain Publishing
Samhain Publishing® is an international publisher of ebook and traditional print fiction, whose diverse array of titles include all genres of romance fiction, award-winning horror fiction, and Retro Romance® fiction—a program which enables previously print-only titles to reach a new e-reading audience. An acknowledged expert in digital publishing since its founding in 2005, Samhain is dedicated to ensuring extraordinary stories reach every reader. To learn why at Samhain "It's all about the story…", visit Samhain Publishing online at http://www.samhainpublishing.com.